Quake victims get communal building; over 8,000 file complaint for missing names
June 25, 2016 | 12:51 pm&nbsp&nbsp&nbsp&nbsp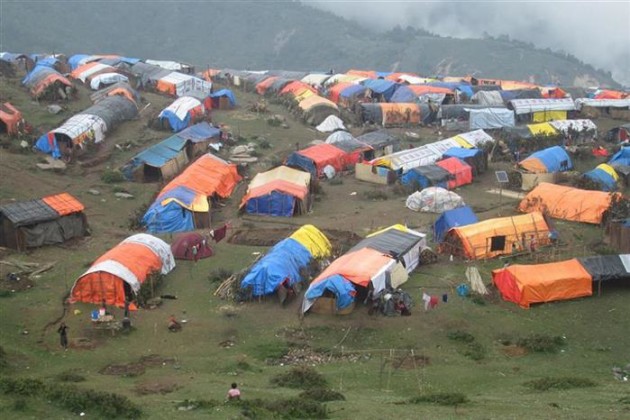 Melamchi / June 25: The Nepal Army Satru Bhanjan Company, Sindhupalchowk, has handed over earthquake resistant building to 12 quake victim families of Bhotenamlang VDC-9 in Sindhupalchowk district on Friday.
The Nepal Army constructed 12-room communal building under the Integrated Settlement Development Project and handed over to the victims, whose houses were completely damaged by earthquake.
The Nepal Army constructed the building within 22 days.
An elderly woman Gangamaya Giri said that they are very happy after getting the quake resistant shelter.
Similarly, the Nepal Army has already handed over community buildings to quake victims of Tauthali, Bhotechour and Bhimtar VDCs.
Meanwhile, more than 8,000 people have filed complaints at the District Development Committee, Nuwakot, citing their names are missing in the list of earthquake victims as well as mistake in their names.
They filed the complaints at the DDC saying their names are missing in course of collecting data of genuine quake victims after deploying surveyors in villages through Central Bureau of Statistics by the government.
As per the statistics published by the DDC, 61 VDCs and Bidur Municipality have so far filed the 8,556 complaints.
A total of 65,759 households have been enlisted in the list of quake victims in Nuwakot. According to the Sub-Regional Office of the National Reconstruction Authority, out of the list of quake victims, grant agreement has already been signed with 2,875 households.
Chief at the NRA Sub-Regional Office, Krishna Prasad Sapkota, said that agreement would be signed in an expedite manner. Sapkota said that the complaints would be addressed based on the policy formulated by the government.
He also urged the DDC to forward the process for those enlisted in the list of quake victims. RSS