Drug Control Programme run by one person; HM calls for treatment to drug abusers
June 26, 2016 | 9:07 pm&nbsp&nbsp&nbsp&nbsp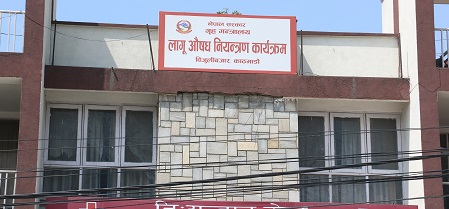 Kathmandu / June 26: The office of the Drug Control Programme in Bijulibazaar, Kathmandu is struggling to provide service for the lack of human resources.
Although the office has six quotas of employees, it is making do with only one in the form of programme officer Khadga Bahadur Shrestha since the past two years.
And Shrestha too has been posted at the office on deputation and in case he is unable to report to the office due to various reasons, the office is left to the care of office assistants."I have to run my office over the phone when I am out of office," Shrestha said.
The lack of human resources is sure to affect the programme working to control drug abusers across the country and around Rs 25 million has been set aside for the programme in the fiscal year 2016-17.
Two years go, the then government had kicked eight contract employees out of the office, saying that it would fill the vacant positions soon. However, the office is yet to get vacant posts filled.
When asked, Joint Secretary and spokesperson for the Home Ministry Yadav Koirala said that they have demanded the Public Service Commission to fill the vacant positions and that the office would get human resources soon.
Meanwhile, Home Minister Shakti Bahadur Basnet has emphasised the need for providing primary treatment to drug abusers instead of punishing them.
Speaking at a programme in the Capital to mark the International Day against Drug Abuse and Illicit Trafficking, 2016 today, the Minister advocated for providing primary treatment to drug abusers as it is their rights to receive treatment. Saying that there is a change in nature and intensity of drug abuse with the development of society, he urged for bringing out reforms in policy related to drug abuse.
On the occasion, Secretary of the ministry Narayan Gopal Malego said that homework has been initiated to amend the Narcotics Drugs (Control) Act, 2033 to keep up with the changing time.
Likewise, presenting data related to drug abuse, Inspector General of Police Upendra Kanta Aryal said that of the total prisoners languishing in different prisons across the country, 30 per cent cases are related to drug abuse.
Likewise, drug abuse control officer Rameshwor Dangal stressed the need for creating a policy to control drug abuse. RSS