Community shelter for quake-stricken in Jiri
June 27, 2016 | 10:20 am&nbsp&nbsp&nbsp&nbsp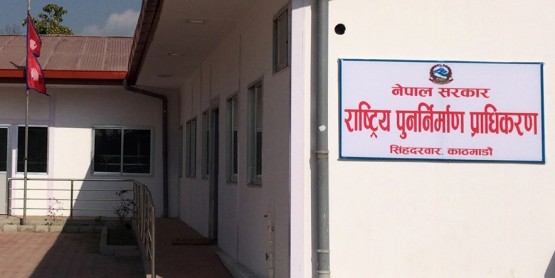 Jiri / June 27: The quake-stricken people who had been living under flimsy tents have finally been accommodated in a community shelter built by Nepal Army's Ranabhim Battalion as per the decision of the National Reconstruction Authority (NRA).
The District Natural Disaster Relief Committee Chairman and former Chief District Officer (CDO), Puspha Raj Shahi handed over the shelter to the quake-victims here on Sunday.
The NA's battalion started working on the construction on June 3 and took just 19 days to complete the work.
Ranabhim Battalion Commander, Madhu Sudan Narsingh Rana, handed over the keys of the community shelter to Committee Chairman, Pushpa Raj Shahi, amidst a programme.
The government had recently announced plans to built community shelters in quake-hit districts before the onset of monsoon.
The community shelter can accommodate at least 12 families, the Ranabhim Battalion said. It is equipped with solar-powered electricity, drinking water system, separate lavatories for men and women, and double-edged wood stove for each of the families. RSS