NRA authority devolved to the sub-regional offices
June 27, 2016 | 10:17 pm&nbsp&nbsp&nbsp&nbsp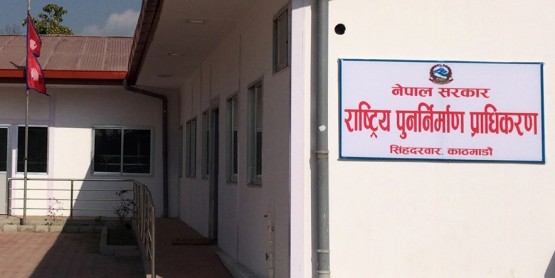 Kathmandu / June 27: The National Reconstruction Authority (NRA) has devolved the authority of works including coordinating with the non-governmental organisations to the Sub-regional offices.
The Authority stated that it has devolved the power to the sub-regional offices to make them more effective and functional. The NRA has its sub-regional office each at Gorkha, Dolakha, Kavrepalanchok, Nuwakot, Kathmandu and Lalitpur for coordinating in the reconstruction and rehabilitation works in the 14 earthquake hardest-hit districts.
NRA spokesperson Ram Prasad Thapaliya shared to the RSS that the authority including running the office and evaluation, approval and monitoring of project proposals received from the NGOs has been devolved to the sub-regional offices.
"The sub-regional offices have also been given the responsibility of preparing the district-wise particulars of the historical and cultural heritages and monuments, of determining the parameter of the programme related to the reconstruction and rehabilitation, of monitoring the quality and amending the district-level programme, among others," Thapaliya explained.
The authority of conducting public hearing, public audit, social audit and third-party evaluation of the offices with the involvement of the partner organisations, the civil society and the local media has also been handed down to the sub-regional offices.
The sub-regional offices have also been urged to send the daily and weekly report of the shelter reconstruction works to the NRA central office through the fastest means possible.
Spokesman Thapaliya stated that the authority of regularly making public the reconstruction activities carried out in the district, of systematizing the information system, of collecting, analyzing and addressing all types of grievances, of sending the unaddressed grievances to the NRA central office and of carrying out works maintaining coordination with the bodies concerned regarding the required security mechanism too has been devolved to the sub-regional offices. RSS