Nepalis aspiring works abroad almost ignorant of job nature
June 27, 2016 | 10:16 pm&nbsp&nbsp&nbsp&nbsp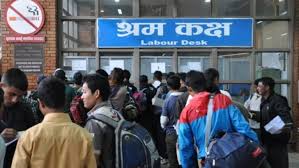 Kathmandu / June 27: A study has shown that almost 97 percent of Nepalis aspiring foreign employments were found unaware of the nature of job they were going to do.
At an interaction organized by the Forum for Women, Law and Development here Monday, advocate Bimala Khadka presented the study report which revealed that only three percent of Nepali migrant workers had knowledge on the jobs they could do abroad.
As per the study, only eight percent know about the salary they would get.
The report was prepared after three-month long study. Nearly 71 percent of such Nepalis are from out of the capital city, Kathmandu.
Moreover, the report said Nepalis are sent abroad not only for labour, human trafficking and entertainment but also for domestic work and illegal organ transplantation. For lack of coordination among the government attorney, police and victim's side, the problems relating to foreign employment were not solved easily, informed advocate Dilip Koirala. RSS