President's call for unity; Pun and Dr Koirala receive Madan Bhandari Award
June 28, 2016 | 10:21 pm&nbsp&nbsp&nbsp&nbsp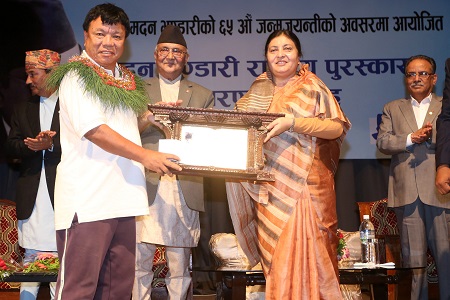 Kathmandu, June 28: President Bidya Devi Bhandari has appealed to all parties to come together to implement the new constitution for institutional development of democratic republic and economic prosperity of the nation.
Speaking at a function organized by the Madan Bhandari Foundation here Tuesday, President Bhandari said as enforcement of the constitution was essential for democratic transformation, sustainable peace and economic prosperity unity among the parties was inevitable.
She also said that the 'people's multi-party democracy' ideology by the late leader Madan Bhandari has played an important role in the peaceful and democratic transition of Nepali society.
Also speaking at the programme, Prime Minister and CPN-UML Chair KP Sharma Oli said the government was moving ahead for constitution implementation and economic prosperity, and made it clear that the lump sum handover of grant to the quake survivors was not possible as a result of the agreement reached with donor agencies. "We do not wish to indulge in politics of sham and betrayal, and wish to reach maximum services to the people soon through reconstruction", he said.
On the occasion, the Prime Minister also lauded the contribution of Madan Bhandari's principle of people's multi-party democracy for positive and peaceful change in Nepali society.
Ideological merger possible on condition-Dahal
Also speaking on the occasion, CPN (Maoist Centre) Chairperson Pushpa Kamal Dahal hinted at the chance of merger between the two parties for the peaceful transformation, prosperity and new identity of the country in the post-conflict setting.
Though he had set an ideological meeting with popular leader Bhandari it was not materialized due to his demise in accident, Chairperson Dahal said, adding that, "Had the personal meetings been made possible we would have influenced one another on the ideological line of people's war or people's multiparty democracy".
Leader Bhandari died in a road accident at Dasdhunga of Chitwan on 16 May 1993.
Recalling the moment that an intellectual of Lalitpur had set a meeting between them for 24 May same year, Dahal said he now has realized that they had similar thinking pattern though direct meeting was never possible.
"There is still a chance for merger between the two parties if we dare to respond ideological queries and concerns raised in connection with national independence and prosperity by brushing aside the sense of arrogance and vested interests".
He termed leader Bhandari as a progressive and forward-looking political personality who emerged out of the need of history and emergency.
Deputy Prime Minister and Minister for Foreign Affairs Kamal Thapa said the contribution of the late leader Bhandari was worth-remembering in democratizing the leftist movement of Nepal.
Thapa, also Chairperson of Rastriya Prajatantra Party Nepal, stressed the need for bringing the country to the path of economic prosperity by shunning tiny disputes.
Mahabir Pun and Dr Koirala honoured with Madan Bhandari Award
On the occasion, President Bhandari honoured Mahabir Pun and Dr Bhagawan Koirala with 'Madan Bhandari National Award' for their remarkable contribution to their respective sectors. The award for the year 2071 Bs and 2072 BS carries a purse of Rs 100,000 each.
Coordinator of the Award Fund and CPN (UML) Secretary Pradeep Gyawali said that the Academy honours those personalities for their contribution in positive change with the award every year.
Academy Chairperson Usha Kiran Bhandari said that the award was established to make Madan Bhandari's contribution immortal and to honour those making positive contribution in the society.
Three publications—'Swet Shardul', 'Shardul' and 'Shraddhanjali' were released and a CD incorporating speech of Madan Bhandari was also released on the occasion. A photo exhibition was organised at Nepal Academy. RSS