Nepal can be developed as a beautiful film city: President Bhandari
June 30, 2016 | 10:18 pm&nbsp&nbsp&nbsp&nbsp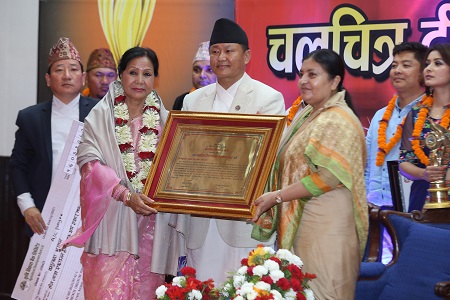 Kathmandu / June 30: President Bidya Devi Bhandari has said Nepal could be developed as a beautiful film city.
Addressing a function organized to confer the film awards at the President House, Shitalniwas, on Thursday, President Bhandari said, "Our country is naturally a beautiful place- film city in itself. Now, with the use of new technology and native identity, we can develop the country as the modern film city."
She argued that the film has an important role on socio-economic transformation of the country. National investment can be prioritized in this sector, the President said, adding that even the foreign investment could be attracted.
The Nepali film having the 50 years' of history, she said, has contributed to the protection and promotion of language, literature, culture and art.
According to her, the screening and distribution of film should be made more systematic to make this sector a dynamic industry.
On the occasion, Minister for Information and Communications Sherdhan Rai said film is not only the source of entertainment but also the agent of social change. Government was very positive to develop film sector with the use of modern technology. RSS