Experts stress on providing clean cooking solution for all
November 4, 2016 | 9:29 pm&nbsp&nbsp&nbsp&nbsp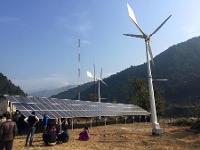 Kathmandu / Nov 4: Experts have underlined the need of increasing the use of clean and sustainable energy while reducing the use of traditional sources of fuel for improving people's health, environment conservation and securing gender inclusion.
Speaking in the National Forum for Dissemination of Investment Prospectus for Clean Cooking Solutions in Nepal, organised by the Alternative Energy Promotion Center (AEPC) with Nepal Alliance for Clean Cookstoves here today, the experts suggested that climate change effects could not be minimised and climate change adaptation, livelihood improvement and health enhancement not achieved unless the dependency on organic fuel sources is minimised.
It is stated that biomass occupies 77 percent out of the total fuel sources in the country, and 70 percent of the population still uses solid bio-fuel for cooking purposes.
Inaugurating the workshop, Minister for Population and Environment Jaydev Joshi spoke of the need of increasing access to clean energy sources through the promotion of renewable energy sources and the use of clean cookstoves, bio-briquette and biogas for cooking purposes.
He stated that the government has given high priority to promotion of renewable sources of energy with the objective of rendering every household free of smoke.
Member of the National Planning Commission (NPC) Dr Arbind Kumar Mishra said that since the indoor smoke is the fourth cause of premature deaths, it was necessary to make the houses and the environment smokeless and this required increasing the access to clean energy sources. He added that the NPC has given special emphasis to this in the new plan.
Former Minister Ganesh Shah stressed on the need of raising public awareness on the importance of smoke-free kitchens, and promoting and giving continuity to researches on development of the improved cooking stoves. He further said the use of solar cooking stoves should be encouraged.
Secretary at the Ministry Dr Bishwanath Oli stated that the issue of promoting clean cooking solutions would be incorporated in the Minimum Carbon Strategy and the Climate Change Policy.
Executive Director of the Center, Ram Prasad Dhital said so far 1.3 million clean cookstoves and some 300 thousand biogas plants have been constructed by the Center, adding that it was making efforts to reaching the smoke-free kitchen facilities to three million households.
Acting Country Manager of the World Bank, Roshan Darshan Bajracharya said that since 80 percent of the fuel sources used in the country is the traditional sources, there is urgent need to reduce this percentage and the Bank has been providing support to the renewable energy sources technology to increase its accessibility.
Center Director Nawaraj Dhakal presented the national concept paper related to the Clean Cooking Solutions. The government has set the target of making all the kitchens smoke-free by 2017. RSS