Samsung washing machines recalled because of explosion risk
November 5, 2016 | 1:41 pm&nbsp&nbsp&nbsp&nbsp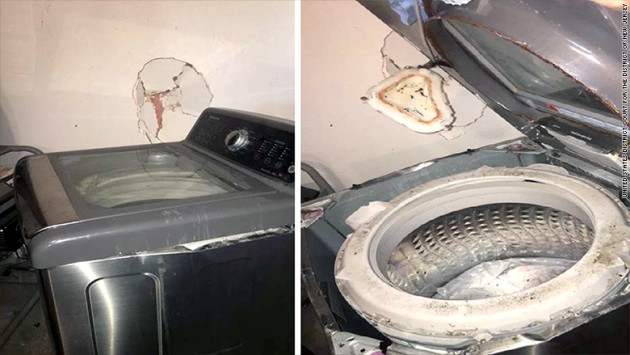 Nov. 05: Samsung — still reeling from its fire-prone Galaxy Note 7 smartphone — is recalling almost 3 million washing machines because they can explode.
Samsung Electronics (SSNLF) and federal regulators announced the recall on Friday after reports that the lids of the machines can pop off violently while the laundry is spinning, posing an injury risk.
Samsung said it can happen when bedding, water-resistant or bulky items are washed on high speed. The drum can lose its balance, causing excessive vibrations that dislodge the lid.
Samsung was hit with a class action lawsuit over the machines in August. A customer in Texas said her washer "exploded with such ferocity that it penetrated the interior wall of her garage," according to court documents.
The South Korean company is already dealing with the recall of 1 million Galaxy Note 7 smartphones, which can burst into flames while charging.
In September, the CPSC told customers to "immediately stop using and power down" the Galaxy Note 7. The FAA told travelers to turn off their phones when flying, and the New York City transit system said to turn them off on trains and buses.
Samsung declined further comment about the washing machines. The company is offering customers free in-home repair, with a one-year warranty extension, or a rebate to buy a new washer, from Samsung or another company, with free installation and removal of the old one. Customers who stick with Samsung get $150 toward their next washer. money.cnn.com