First Nepali animated movie screened in London
November 5, 2016 | 1:46 pm&nbsp&nbsp&nbsp&nbsp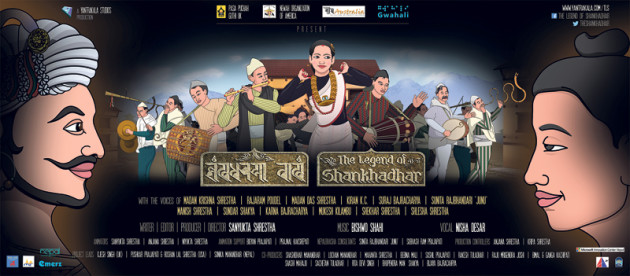 Kathmandu / Nov. 05: A private viewing of the first animated Nepali movie "The Legend of Shankhadahar" was held amongst Nepali Diaspora audience in Greenford Town Hall, London on the occasion of Nepal Sambat 1137.
The movie is a biopic on Nepal's national hero Sankhadhar Saakhwa and how he started the Nepal Sambat (Era). It is based on the social relations between the historic cities of Bhaktapur and Kathmandu and also makes a comparison with the present-day Kathmandu which was hit by a devastating earthquake last year.
The movie makes use of traditional Nepali style of art and story-telling and has voices of veteran artists like Rajaram Poudel, Madan Krishna Shrestha, Kiran K.C. and Madan Das Shrestha. The music is by Bishwo Shahi and vocals by Nisha Desar, while dance direction is by Sunita Rajbhandari.
The movie will have its grand premiere on 11th December 2016 in UK by Pasa Puchah Guthi UK, and in USA by Newah Organization of America. The film is set to release on 17th December 2016, in Nepal. It will be released by an NGO called Gwahali.
Throughout 2017 the movie will also be screened at various countries in Europe and the Middle East. Source: http://www.myrepublica.com/news/8546