NMC allocates MBBS and BDS seats to medical colleges
November 5, 2016 | 9:13 pm&nbsp&nbsp&nbsp&nbsp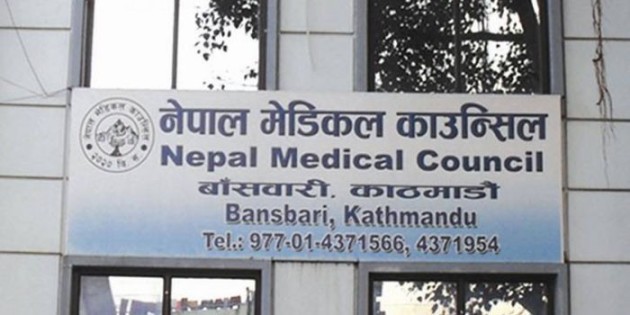 Kathmandu / Nov 5: The Nepal Medical Council (NMC) on Saturday directed those medical colleges which have been allocated seats for Bachelor of Medicine and Bachelor of Surgery (MBBS) and Bachelor of Dental Surgery (BDS) to start the admission process on a merit basis.
The direction was issued through a notice. The NMC also allowed Janakpur-based Janaki Medical College to enroll students in MBBS after four years of the ban.
Earlier, the NMC meeting held on Thursday and Friday in the Capital had decided to allocate maximum 115 seats in MBBS and up to 50 in BDS in medical colleges.
As per the decision, the Janaki Medical College have been allocated 80 MBBS seats. Likewise under the Tribhuvan University, Gandaki Medical College has been allocated 90 MBBS seats. Similarly, 115 MBBS and 35 BDA seats have been allotted to Chitwan Medical College while National Medical College has 115 MBBS seats.
Army Medical College has been allotted 115 MBBS seats and Kist Medical College has got 110 MBBS and 50 BDS seats. Also under Kathmandu University, Nobel Medical College has been allocated 105 MBBS and 15 BDS seats while Nepal Medical College 115 MBBS and 40 BDS seats.
Likewise, 115 MBBS and 40 BDS seats have been allocated to Kathmandu Medical College.
Nepalgunj Medical College and Manipal Medical College have been allotted 115 MBBS seats each, the Lumbini Medical College 100 seats, Birat Medical College 75 seats and Devdaha Medical College 24 seats.
Similarly, College of Medical Sciences, Bharatpur has been allocated 115 MBBS and 25 BDS seats while Universal Medical College, Bhairahawa 115 MBBS and 50 BDS seats.
Also, Kantipur Dental College, Kathmandu has been allocated 35 BDS seats, Kedia Dental College, Birgunj 35 seats, People's Dental College, Kathmandu 50 seats and Kathmandu Universal School of Medicine, Kavre 45 seats. RSS