Security of the rights of Nepali migrant workers in priority
November 7, 2016 | 10:00 pm&nbsp&nbsp&nbsp&nbsp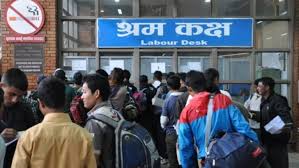 Kathmandu / Nov 7: Foreign Minister Dr Prakash Sharan Mahat has said that his Ministry has accorded special priority to securing the rights and interests of the Nepalis in foreign employment.
In a meeting with a delegation of Human Rights and Peace Society at the Ministry Monday, he said lakhs of Nepalis are working in various countries around the world and attention has been paid towards their security and safety by prioritizing the diplomatic relations with those countries. Efforts are also being made in coordination with the Finance Ministry to increase the number of staffers in the Nepali diplomatic missions to be mobilized in the interest of the Nepali migrant workers, he added.
Minister Dr Mahat also responded positively to the Society's request for Nepal to ratify the Rome statute of the International Criminal Court.
The delegation was led by Society Chair Gangadhar Adhikari including among others former Chair Homkanta Chaulagain and founding member Krishna Kandel. RSS