Historic Jajarkot palace awaiting renovation
November 8, 2016 | 10:15 pm&nbsp&nbsp&nbsp&nbsp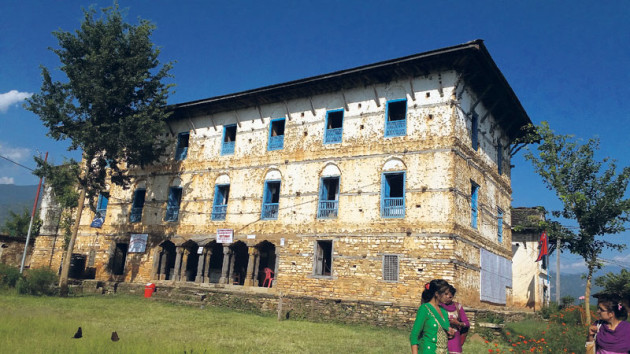 Jajarkot / Nov 8: A historical palace dating back to the pre-unification period of Nepal in the district is waiting for renovation. The Jajarkot palace as it is known is in almost dilapidated condition. The palace which was built in 1825 BS has unique artistic outlook. The palace was built by the then King of Jajarkot, Hari Shah who was the meet (friend) of national unifier Prithvi Narayan Shah.
A local Rajendra Bikram Shah complained that the concerned authority is found reluctant to timely renovate this historic monument in the district. Though the district administration office is providing services from the palace building, it is in almost dilapidated condition.
The seven-storied building was reduced to four-storied after the big earthquake that struck in 1990 BS. The locals have expressed worry over the loss of historical assets of the palace as no concerned authority is paying attention to preserve them.
The Jajarkot principality was one of the powerful one among the Baisi (twenty two) principalities before the unification of the country.
Assistant chief at the district administration office, Janakraj Sharma shared that though they were frequently reporting to the concerned bodies for its renovation, it has gone unheard. He added that about 130 million rupees was needed for its reconstruction. RSS