Luxembourgers assist to construct shelter for inmates' children
November 8, 2016 | 10:15 pm&nbsp&nbsp&nbsp&nbsp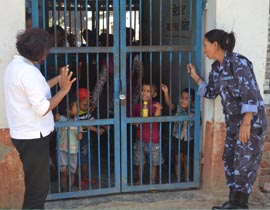 Jhapa / Nov 8: As generosity knows no bound, two Luxembourgers who were here in lending helping hands in the construction of a shelter for the children of inmates have finally completed their mission.
A home for the children of incarcerated parents at Salabari of Shaniarjun-9 constructed at a cost of two million rupees provided by Pabel Geditz and Michel Geditz was formally handed to the Prisoner's Assistance Nepal today.
The PA Nepal owned the cost to purchase a piece of a land (two kaththa) to construct the shelter in which local social worker Hasta Bahadur Pariyar chipped in, providing additional land (a half kaththa) for the purpose. He provided the land free of cost.
The four-room shelter is sufficient to house 12 children, according to PA Nepal eastern regional coordinator Jagat Bahadur Tamang. This is not the first time that Pabel and Michel funded to construct such type of shelter in Nepal. Palpa and Sankhu of Kathmandu have already such homes, thanks to the generosity of Pabel and Michel. RSS