Government gives production permission to 19 hydel projects; PM announces award to employees if project completes within six months
November 8, 2016 | 10:16 pm&nbsp&nbsp&nbsp&nbsp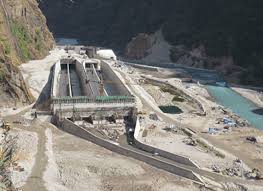 Kathmandu / Nov 8: The government has issued permission for production to different 19 hydroelectricity projects in the last seven months this year.
The Electricity Development Department under the Ministry of Energy provided the permission to these projects with the combined production capacity of 848 Megawatts power, urging them to start the construction process promptly.
The projects which have been issued with the permission include the 75-Megawatts Trishuli Galchhi Project with its project site in Dhading, the 127-Megawatts Tanahun Seti Hydroelectricity Project, the 400-Megawatts Kaligandaki Kowang Project in Mustang, the five-Megawatts Chaurikhola Project based in Ramechhap district, the 110- Megawatts Daraundi Project based in Gorkha and the 78-Megawatts Sanjen Khola Project based in Rasuwa.
Similarly, production permission has been issued to the Palakhukhola project (5 Megawatts), the the Upper Palakhukhola project (14 Megawatts), the Upper Balefi project (36 Megawatts), the Lipingkhola project (16 Megawatts), the Lower Khorang project (5 Megawatts), the Bijayapurkhola project (4 Megawatts), the Upper Khorungakhola project (7 Megawatts) and the Upper Solukhola project (18 Megawatts).
Production permission has also been provided to the Makarigad project (10 Megawatts), the Yambalingkhola project (7 Megawatts), the Sano Miltikhola (3 Megawatts) and the Madi Bhorletar project (10 Megawatts).
The Department stated that it has so far provided production permission to a total119 projects with a combined capacity of 3,315 Megawatts.
Award to employees if project completes within six months: PM Dahal
Meanwhile, Prime Minister Pushpa Kamal Dahal has assured of rewards to the employees at Upper Tamakoshi Hydropower Project if the project was accomplished within the next six months.
During a meeting with the employees at the project site while conducting an onsite inspection and monitoring here Tuesday, PM Dahal said the project was the model development endeavour of the country, so its timely completion would give a positive message in the development sector. "I'm ready to provide any sort of assistance to accomplish the project on time. There won't be any financial constraints for it," he underscored.
He directed the employees to carry out the activities transparently. The PM also directed the concerned authorities in the district to expedite the reconstruction and repair of roads damaged by the earthquake.
Nearly 82 percent of the construction activities under the Upper Tamakoshi Hydropower Project has been completed, said project spokesperson Dr Ganesh Neupane, adding the capacity of the project is 456MW.
The national pride project is being constructed at Lamabagar of Dolakha district with domestic investment. It was initiated in 2068BS. The earthquake of 2015 and its aftershocks affected the expedition of the construction activities. It is expected that the project would be completed by Asar 2074BS.
While achieving 82 percent of completion, a total of Rs 31.84 billion has been spent, added spokesperson Neupane. Although Rs 35.29 billion was allocated initially, the total cost is expected to climb to Rs 41.72 billion. RSS