Romanian climbers reach atop Peak-5; Tourist numbers up in Khumbhu area
November 9, 2016 | 9:42 pm&nbsp&nbsp&nbsp&nbsp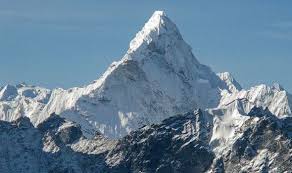 Kathmandu / Nov 9: The first-ever adventurous climbing to the 6,421-metre-high Peak-5 — situated in the east-north part of Mount Makalu — has taken place.
Two Romanian nationals, Vlad Capusan and Zsolt Torok, reached atop the Peak-5 for the first time. They successfully scaled the mountain at 2:10 pm on October 31.
The Government of Nepal had enlisted the summit as Unclimbed Peak-5 in 2003. Though the government had classified more than 100 peaks as unclimbed one, there is attraction among climbers to make adventurous mountaineering to such summits.
The Romanian expedition team had successfully scaled the risky-to-climb peak for the first time, said Bodh Raj Bhandari of Snow-Way Horizon Treks and Expedition Company.
At a press conference organized at the Nepal Tourism Board (NTB), the Romanian trekkers expressed happiness for successfully scaling the Peak and hoped this will impart a positive message across the globe to promote Nepal's mountaineering tourism.
Tourist numbers up in Khumbhu area
Meanwhile, the number of tourists visiting Khumbu area in Sagarmatha zone is notably on the rise this year.
A total of 6,442 tourists entered the Khumbu area via Namche, the gateway to the Mount Everest, as of October in the current fiscal year, according to the Area Police Office, Namche.
This is an increment of 3,890 number of tourist compared to altogether 2,252 tourists welcomed in the region during the corresponding month last year.
More tourists could be attracted if the Lukla Airport is expanded and road connectivity up to Surke in the Solukhumbu district is linked, said Prithu Rai, a local tourism entrepreneur. RSS