Number of woman journalists to high-post minimal
November 9, 2016 | 9:41 pm&nbsp&nbsp&nbsp&nbsp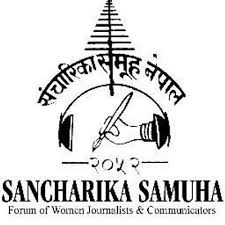 Lalitpur / Nov 9: Although the number of woman journalist has increased, the number of women journalist in senior position in the media sector is minimal, shows a study report.
The study report 'Professional situation of women journalists in Nepal' carried out by the Sancharika Samuha shows that only 8.1 per cent of women journalists have reached high-ranking posts like editor, bureau chief, among others.
At a programme organised here on Wednesday, Secretary at the Ministry of Information and Communications, Dinesh Thapaliya, said that only the number of woman journalists has increased and no achievement has been gained in view of quality and inclusion. He also suggested the small media to go for merger.
Similarly, President of the Federation of Nepali Journalists Dr Mahendra Bista pledged to make the FNJ woman-friendly by making some revision in its statute. Every section will have a woman Vice-President after revision in the statute", added Bista.
Likewise, Sancharika Samuha Chairperson Nirmala Sharma shared that the study was first of its kind carried out in the country. RSS