PM Dahal directs for delivery of services that can touch people's hearts
November 11, 2016 | 4:41 pm&nbsp&nbsp&nbsp&nbsp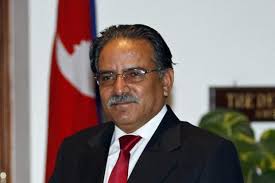 Biratnagar / Nov 11: Prime Minister Pushpa Kamal Dahal today instructed the public servants to provide services to the people in such a manner so that they could feel the government is providing them the services.
Giving directives to the chiefs of the Regional and District Offices in Morang district in Biratnagar today, PM Dahal asked them to pay attention for the completion of the development projects in a result-oriented manner.
Arguing that there should be feeling of healthy competition among the employees for the timely completion of the development projects, the PM pledged that the employees with excellent performances will be rewarded by the State.
Pressing for the timely completion of the projects of national pride, he urged the civil servants to work united for nation-building bearing a positive outlook. PM Dahal recalled that he had told the Line Ministers and office- bearers to address the issues hindering the completion of the national projects.
The Prime Minister also urged the concerned authority to increase budget expenditure to accelerate development works.
He said he has already directed the authorities to accelerate the Melamchi Water Supply Project, Sikta Irrigation Project, Upper Tamakoshi Hydroelectricity Project, and road construction projects in Khotang and Sankhusabha for their timely completion.
The constitution enforcement process is in the progress on the basis of a political consensus, he insisted and said that government employees should contribute in creating an atmosphere favourable for holding the three-tier election and bringing the constitution into force.
"The government has adopted an independent foreign policy and been able to maintain balanced relations with its two close neighbours, and with the international community as well," PM Dahal asserted. He further claimed that country's security situation has improved in recent years.
The government is committed to further enhancing the competency of the Nepalese Army, the Armed Police Force and Nepal Police with the adoption of good aspects of globalization, and science and technology.
Acting Chief Secretary Tankamani Sharma said country's development is at a slow pace and accelerating it should be the focus of the employees.
On the occasion, Morang Chief District Officer Toyam Ray apprised the Prime Minister of burning problems of the district. RSS