Nepal Tarun Dal conclave kicks off – NC leaders ask cadres to get focused on elections
November 13, 2016 | 3:01 am&nbsp&nbsp&nbsp&nbsp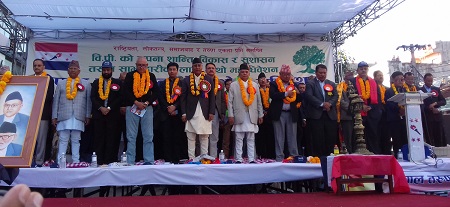 Pokhara / Nov 12: Nepali Congress leaders have urged party cadres to concentrate their efforts towards elections since holding all three tiers of polls is key to constitution implementation.
At the inaugural session of the fourth national general convention of Nepal Tarun Dal beginning from Saturday in Pokhara, NC leaders spoke on the importance of constitution implementation for institutionalizing the long march to democracy and directed the cadres to remain proactive for elections.
Nepal Tarun Dal is the youth wing of the Nepali Congress. Inaugurating the general convention, NC President Sher Bahadur Deuba expressed the party's firm commitment to the effective implementation of the constitution and vowed to implement the statute after making necessary amendment to include all groups and communities.
NC leadership has become essential for the country to attain economic prosperity and development, he said, asking the youths of the party to put all-out efforts to emerge NC number one in all elections.
Pledging that he would advance the party in a united manner, he said and directed the convention to take initiatives for electing the new leadership in Tarun Dal on consensus.
NC senior leader Ram Chandra Poudel pointed out the urgency of improved unity within the party to make the party first and strong in all three upcoming elections.
He also underlined the need for the amendment to the constitution in a way that would not hurt our national unity and sovereignty.
Poudel stressed on attaining economic prosperity and development through agriculture revolution, tourism and energy sector.
NC general secretary Dr Shashanka Koirala said the NC has the strength to address several kinds of challenges facing the country and it is the need of the hour that the party should be united.
Deputy Prime Minister and Home Minister Bimalendra Nidhi said the development is possible only through the path of non-violence and peace, adding there is big attraction among youths to the Tarun Dal.
Also speaking on the occasion, former general secretary Prakash Man Singh expressed his confidence that the general convention of the Tarun Dal would impart message to the NC to get united and help pave the way for political stability in the country.
On the occasion, former general secretary and ex-deputy Prime Minister Krishna Sitaula highlighted the need to steer ahead the country towards economic prosperity and keep intact the achievements made through the people's struggle.
Minister for Defence and former president of the Tarun Dal, Bal Krishna Khand, Nepali Congress treasurer and Minister for Peace and Reconstruction Sitadevi Yadav and Minister for Poverty Alleviation Hridayaram Thani called on the Nepal Tarun Dal youths to dedicate themselves to the economic development of the country.
Former presidents of the Tarun Dal, Binod Kayastha, Mahadev Gurung and Mahendra Yadav, chairperson of Nepal Women's Association Uma Regmi and the central president of the Traun Dal Udaya Shamsher Rana, amng other speakers stressed on the enhanced leadership and political role of the youths in the present 21st century.
As many as 1,400 delegate members from 73 districts are participating in the three-day general convention of the Tarun Dal. RSS