Nepal lifts AFC solidarity cup; Victorious football team members to get 300 thousand each
November 15, 2016 | 10:03 pm&nbsp&nbsp&nbsp&nbsp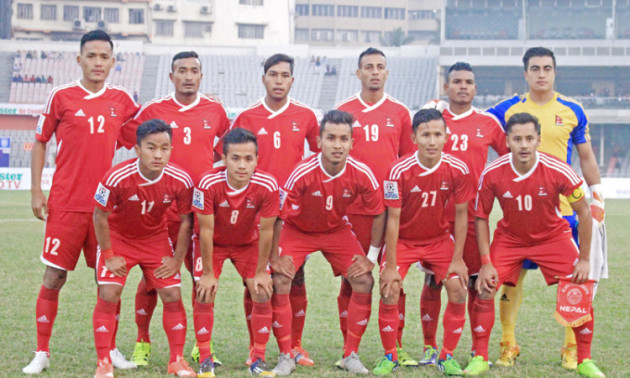 Kathmandu / Nov 15: Nepal has clinched the AFC Solidarity Cup by defeating Macau in the final today.
In the final match that ended a while ago at Kuching of Malaysia, Nepal defeated Macau by 1-0 to win the inaugural edition of the tournament.
Sujal Shrestha's 30th minute header into the opponent's goal post proved enough to give Nepal the title.
This is the third title won by the Nepali national team this year including the Bangabandu Gold Cup held in Bangladesh and the South Asian Games (SAG) football gold medal in India.
A total of seven countries that are lowly ranked in the FIFA World rankings had competed in the event. Nepal finished as the winner, without losing a match.
Victorious football team members to get 300 thousand each
Meanwhile, the government has declared a bonus of Rs. 300,000 each to the members of the Nepali football team that clinched the AFC Solidarity cup in Kuching of Malaysia on Tuesday.
Nepal had lifted the maiden trophy of the AFP solidarity tournament by beating Macau 1-0. The announcement of a bonus amount was made by Minister for Youth and Sports Daljit Sripaili soon after the victory, according to his personal secretary Rajendra Biswakarma. RSS