Suspended CIAA Chief Karki appears before SC with written response
November 15, 2016 | 9:37 pm&nbsp&nbsp&nbsp&nbsp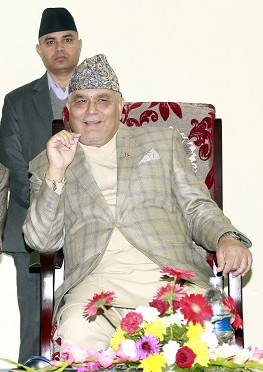 Kathmandu / Nov 15: Suspended Chief of the Commission for Investigation of Abuse of Authority (CIAA), Lokman Singh Karki, appeared before the Supreme Court with a written response over the allegation that he deserved punishment for obstructing the SC to serve notice to this residence on court's summon.
In the written response, Karki has argued that the opponent alleged him with bad intention. He had no involvement on the obstruction of court's summoning notice, as he was out of the country during that time. "All my family members are living inside the CIAA premises, and his private residence at Old Baneshwor was rented out. The SC employees had served the notice at his official residence earlier, so I have not obstructed the judicial process at all," he underscored.
Moreover, Karki wondered why the notice of SC's summon was being taken to his private residence while his entire family was staying in the government (official) residence for three years.
Advocate Om Prakash Aryal had registered application at SC demanding action against Karki, arguing that he obstructed judicial process over the hearing on his appointment.
Meanwhile, Deputy Superintendent of Police, Nahakul Gautam, has furnished written responses against the allegation of his obstruction while serving a notice on SC's summon to the suspended CIAA Chief Karki.
He also argued that he had no involvement at all. He was spotted there when he was walking on the street, he claimed. RSS