Development Committee to table report at House meeting
November 16, 2016 | 9:53 pm&nbsp&nbsp&nbsp&nbsp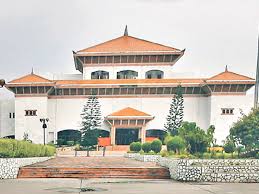 Kathmandu / Nov 16: A report of the Legislature-Parliament's Development Committee regarding non-compliance of its directives to stakeholders (government offices) is to be presented at House meeting.
At a press conference organized here Wednesday by the Committee, it was shared that the development works have been impeded for the government not blacklisting the contractors who do not comply their contractual obligations.
The report on delay caused by the stakeholders of development works would be tabled at the House meeting within 15 days, said Committee Chairperson Rabindra Adhikari. "The development works have been delayed when the government does not black list the contractors who do not complete the works despite several years of contract signing", he added.
The Committee has made public the report stating that deficit inter-ministerial coordination, unnecessary obstruction to development works by Ministry of Forest and Environment, ignorance on part of contractors, sidelining the plans selected through 14-step planning process and manipulation from accessible government officials and leaders, among others, have been putting brakes on development works. RSS