Disney World deploys 300 drones for holiday light show
November 19, 2016 | 8:06 pm&nbsp&nbsp&nbsp&nbsp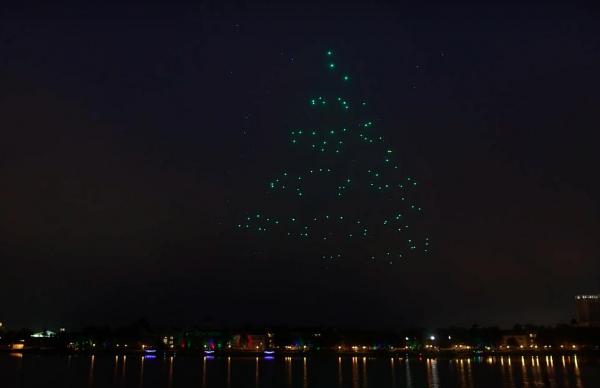 Nov. 19: Disney World has implemented hundreds of drones to illuminate the sky for a special holiday light show.
The new show known as "Starbright Holidays — An Intel Collaboration" features 300 illuminated drones choreographed to create images including a Christmas tree, birds and others while holiday music plays in the background.
"'Starbright Holidays — An Intel Collaboration' showcases the latest innovation in storytelling and spellbinding experiences to set your holiday season aglow at Walt Disney World Resort," Disney Parks said.
The 5-minute production is the largest drone performance in the United States and is scheduled to take place regularly at the Disney Springs shopping center "later this holiday season," the Orlando Sentinel reported.
The Styrofoam Intel Shooting Star drones weigh about as much as a volleyball and are equipped with LED lights capable of creating 4 billion color combinations.
"We are excited to work with Walt Disney Imagineering to bring a fresh and innovative approach to its world-renowned light shows," Josh Walden, senior vice president and general manager of Intel's New Technology Group told WPTV. "Together, we worked to tackle the new frontier of entertainment, picturing the sky as our canvas, and flying lights as ink." Upi.com