Imagine Nepal ready for takeoff
November 19, 2016 | 8:24 pm&nbsp&nbsp&nbsp&nbsp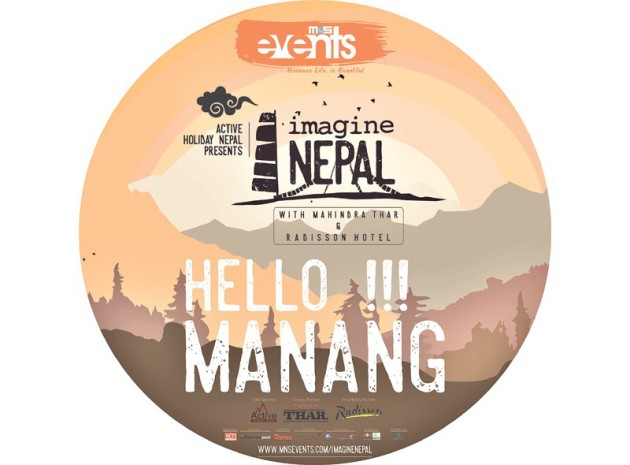 Kathmandu / Nov 18: Imagine Nepal, a platform under the M&S Events is slated to start on Friday, November 18.
An off-road drive event that will take the participants to remote regions of the remote Manang distict, Imagine Nepal was conceived, according to the organisers, "to introduce a platform that would attract not just 'backpackers' but rather adventurers or daredevils to take Nepal one step closer towards establishing a name in the world of Luxury Tourism."
"If Nepal were to widen its target group by focusing on more segments of tourists that could visit Nepal, the tourism industry, a 19 percent contributor to our GDP, would definitely boom. Imagine Nepal is, therefore that platform which, like the Color Republic, aims to revolutionise an entire industry," states a press note issued by the organisers.
The first edition of the event will see a total of 25 vehicles and 60 people on an off-road trip to Manang. The trip will feature personalities such as Saurabh Jyoti (Director of Jyoti Group), Akash Golchha (Executive Director of GoFord), Sulav Budathoki (Director of Islington College), Niraj Lal Vaidya (Director of B'n'B Hospital), Kishore Maharjan (Chief Executive officer of Civil Bank Limited), and Bibek Basnet (Managing Director of Yeti Travels), among others.
The entourage will engage in a variety of activities such as Camping in Timang; ATV rides, horse-riding and golf in Manang. Other events will include, a chess competition, a poker championship, a photo competition and a Zenga challenge.
According to the organisers, this year's edition will focus on promoting 'internal tourism'. The next iteration of the event will explore the rugged terrains leading to such destinations as the Rara Lake, Lo Manthang, and Khaptad. Source: The Kathmandu Post