Cake mixing celebration at Hyatt Regency
November 19, 2016 | 8:25 pm&nbsp&nbsp&nbsp&nbsp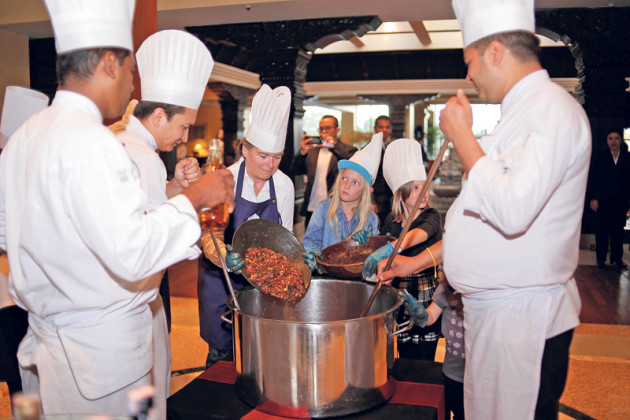 Kathmandu / Nov 18: Hyatt Regency in Kathmandu held a traditional Christmas cake mixing celebration on Friday in anticipation of the festive season. Female expatriates and socialites from Kathmandu, including the hotel guests and children participated in the ceremony.
Before the ceremony, all guests were given gloves, personalized aprons and chef's hats. The guests merrily mixed the ingredients as per the instructions given by the head chef followed by a photo session.
The ingredients to make the plum cake include dates, dried cherries, figs, almonds, walnuts, pistachios, raisins, sultanas, blackcurrants and mixed fruit peels. Other ingredients used are cashews, tutti frutti, apricots, prunes, nutmeg, cinnamon, cardamom, clove, melted butter, lemon juice and sponge crumbs, which were all mixed with brandy, orange juice, whisky and rum.
The organizers said that these ingredients need to be stored for a month to set properly and hence the event is always organized a month prior to Christmas. The bakery items made from this mixture will be put on sale from December 14 onwards. Source: http://www.myrepublica.com/news/9435