Reconstruction action plan approved
November 20, 2016 | 11:28 pm&nbsp&nbsp&nbsp&nbsp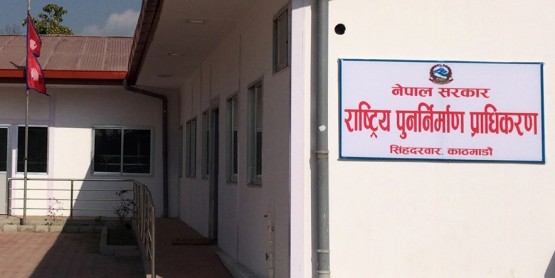 Kathmandu / Nov 20: The National Reconstruction Authority (NRA) Directive Committee approved the action plan on reconstruction, including goals.
The meeting on Sunday held at the Office of the Prime Minister and Council of Ministers endorsed the plan. The meeting chaired by Prime Minister Pushpa Kamal Dahal also took a decision about the ways to work with various line ministries, and to begin and complete work within a fixed time and the responsible authority, said CEO of the NRA Sushil Gyawali.
The action plan also includes a goal of completing construction of private homes within two years and to move ahead the reconstruction of educational institution, health centres and cultural heritage based on an action plan with specific time table. Budget for the same has already been allocated from the Finance Ministry, according to Gyawali.
The working procedure for distribution of the second instalment of support to the quake victims has also been tabled before the Council of Ministers. RSS