President inaugurates Makalu Diamond Jubilee celebrations
November 21, 2016 | 10:10 pm&nbsp&nbsp&nbsp&nbsp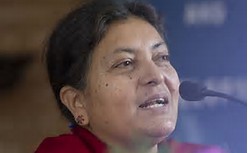 Sankhuwasabha / Nov 21: President Bidya Devi Bhandari inaugurated the Makalu Diamond Jubilee celebrations commemorating the first ascent on Mt Makalu amidst a special programme here today.
On the occasion, the President said Sankhuwasabha, home to Mt Makalu which is one of the eight highest peaks in the world, and popular as the 'capital of rhododendron, can be developed as a major tourist destination.
Seeking the attention of the bodies concerned towards promoting tourism in a planned means in the district and eventually lifting the local lifestyle, the President said, "Peace and stability are the current need of the country".
The Head-of-the-State insisted on unity among the people of mountain, hill and Tarai to see the overall development of the country and to lead it towards prosperity.
Minister for Tourism and Civil Aviation Jeevan Bahadur Shahi, speaking of the potentiality of huge income generation through the means of tourism here, said the arrangements will be made for immediately allocating the amount to be collected through royalty of the Makalu climbing to the District Development Committee so that it can be used in the development endeavours in the district.
Lawmaker Taraman Gurung and CPN (UML)'s central member Rajendra Gautam said Sakhuwasabha has a bright future in terms of tourism, seeking the government assistance towards that end.
Main Celebrations Committee coordinator Minga Sherpa hoped of getting support from all quarters for the entire development of the Makalu region.
Tourists from Japan and the US also joined the celebrations. An agro festival has been organised as a part of the celebrations.
The Chichila Bazar that lies to the north of the district headquarters Khandbari carries abundant potentiality of tourism development. RSS