PM Dahal urges KU graduates to serve as good citizens
November 22, 2016 | 10:00 pm&nbsp&nbsp&nbsp&nbsp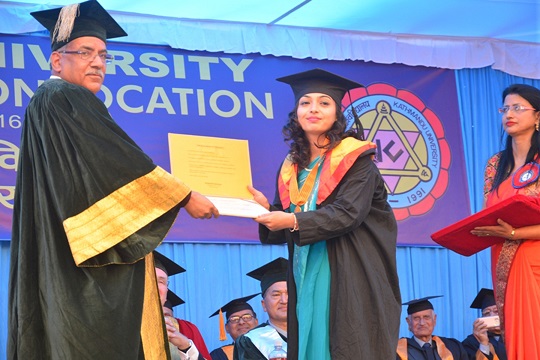 Banepa / Nov 22: Prime Minister and Kathmandu University's Chancellor Pushpa Kamal Dahal today suggested the graduate students to serve as a model in providing service as a good citizen.
Addressing the 22nd Convocation Ceremony of the Kathmandu University at Dhulikhel, PM Dahal cautioned the graduates that medical sector is not a frivolous thing, but a sensitive one.
He said the graduates' shoulders are now heavy with the responsibility of the society and country and urged the students to dedicate the definition of life's success to human life.
Stating that the medical knowledge is a subject linked with community health service, PM Dahal praised the work of KU in medical knowledge as commendable.
On the occasion, University of Western Sydney, Australia Vice Chancellor and President Dr Barney Glover spoke of unlimited challenges for using manpower.
The total of 1,377 students received the medical graduation degrees under the bachelor and master's- level. Among the graduates, 7.26 percent are foreign students. The number of graduates from India is 93 while seven are Sri Lankan. The total percentage of successful women students is 52.51 per cent and Pranita Rajbhandari of Lumbini Medical College was awarded the gold medal as the excellent student. RSS