1,465 families residing on river banks in guise of landless squatters
November 26, 2016 | 12:41 pm&nbsp&nbsp&nbsp&nbsp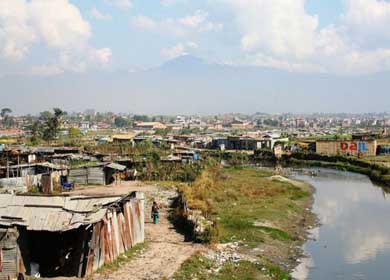 Purna Prasad Mishra / Kathmandu, Nov 26: As many as 1,465 households have encroached upon the banks of the Bagmati and Bishnumati rivers for residential purpose.
The High-Powered Bagmati Civilization Integrated Development Committee has informed that the river banks encroachment drive has started in the Kathmandu Valley in the name of landless squatters since 26 years back. The tendency of intruding the river banks has increased after the 2006 April Uprising, stated the study report of the committee.
According to the committee study report, the number of households encroaching the river banks includes six in the Bagmati River above the bridge in Sinamangal, eight in the Bagmati River below the bridge in Sinamangal, 40 nearby Guheswori school in Sinamangal, 60 in Gaurigaun of Sinamangal, 200 in Jagritinagar of Sinamangal, 400 in Shantinagar, New Baneswor, 100 in Shankhamul, 108 in Thapathali and 318 in Balkhu.
Likewise, 70 households have intruded the Mahadev Rivulet along the bank of Bishnumati River and 155 have encroached upon the River in Balaju area. RSS