Not nice: Santa accused of telling child Hillary Clinton is on his naughty list
November 26, 2016 | 1:50 pm&nbsp&nbsp&nbsp&nbsp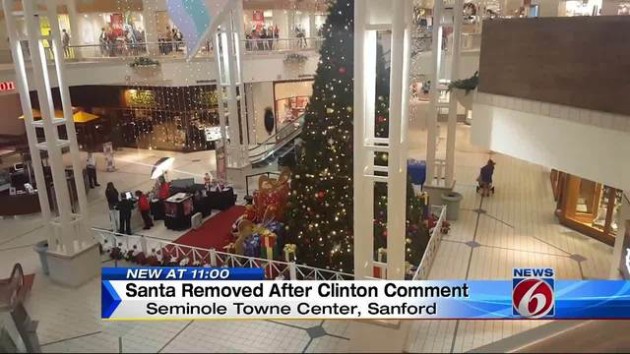 Nov. 25: A man who played Santa Claus at a central Florida mall was removed from the site after allegedly telling a child sitting on his lap that Hillary Clinton was on his "naughty list."
The incident took place Nov. 15, at Seminole Towne Center in Sanford, about 25 miles northeast of Orlando, WKMG-TV reported.
The unidentified woman's 4-year-old boy posed first with Santa Claus and then her 10-year-old daughter sat on his lap, according to a WKMG screen shot of one of the woman's Facebook posts.
"She tells Santa what she wants, and then he tells her she's on the nice list," the Facebook post read. "He then says that there's only one name on the naughty list. Can you guess who? My daughter says who? And he says Hillary Clinton and then started laughing."
The woman, who identified herself as a Clinton supporter, left with her kids.
"I'm upset because this had nothing to do with a child and seeing Santa, and at age 10 she still believes," the woman wrote.
The Seminole Towne Center manager contacted her to say the mall doesn't condone Santa's behavior.
The bad Santa is still employed by the Santa vendor, the Noerr Program, Inc., at another location. The company supplies Santas to malls around the country.
"Seminole Towne Center has an established reputation for being a family-friendly destination for Central Florida," the mall said in a statement. "We take customer feedback seriously and we work with our retailers and partners to improve upon situations that require attention."
The mall said Santa received additional training in human resources "to ensure that he remains in the character of Santa during all future appearances. Santa is a symbol of peace, joy and goodwill for all and we are pleased that we are able to bring this cherished symbol to the communities we serve."
In Seminole County, Clinton received 46.55 percent of the vote compared with Donald Trump's 48.10 percent in the Nov. 8 presidential election. Upi.com