Beauty with a purpose
November 26, 2016 | 2:02 pm&nbsp&nbsp&nbsp&nbsp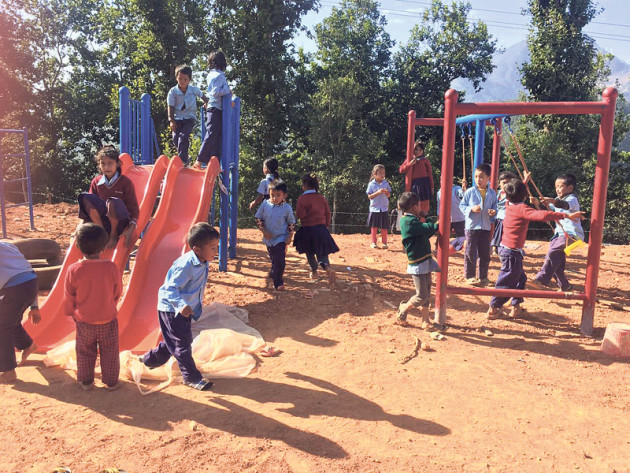 Adhiraj Regmi / Kathmandu: This is all about my experience that were gathered during one of the project entitled 'Classroom and Beyond' led by Miss Nepal Asmi Shrestha. Today, when I look back and recall the memories, every moment is worth a throwback.
The project was not just a formal setting of a school, it was more than that. Having taken off from Kathmandu for the completion of the project, we were enthusiastic.
The objective of the project was to build a school in the earthquake-hit district Gorkha where schools were dismantled by earthquakes last year. Having analyzed the disturbing situation Asmi Shrestha initiated the project to help those underprivileged ones by not just inaugurating it or constructing a building and keeping up some resources but she envisioned transforming the quality of education in Deurali Gorkha by involving the community to take the responsibility, involving teachers and also the parents of the students.
I was fascinated by how she believed that school isn't only about having a building and a classroom to learn. It needs to give an effective output where every single stakeholder in the concerned purpose should realize about the importance, should be responsible enough and motivated to effectively execute things. This completeness can only help us achieve real empowerment and that the objective can be achieved.
One of the best things I learned from this journey would be the importance of a leader to motivate his/her workforce. The team was exhausted having continuously worked for 4 to 5 hours, carrying up stones and setting up the classroom but we still saw her working with the equal energy despite the weariness. That scene instilled a high level of motivation within me, within us and we joined her.
So from this, what we can reflect is, leader if motivated toward a goal can easily take his/her workforce together without any complaints and hesitancies. I related this with our country's politics. Had every politician, every leader been driven with such attitude, the citizens would leave no space to contribute towards the society. The motivation that would be generated from this action would make everyone responsible and active.
It is not just a school built but as the name says; it aims in improving education in Deurali from a wider vision and transformed ideas. Miss Nepal and the team also assured constant supervision that will be given to the school in future. This project was designed to present for the 'Beauty with a purpose' category of Miss World 2016 which will be held in USA. Source: http://www.myrepublica.com/news/9891