Chakkar to bring LGBTI characters to screens
November 26, 2016 | 2:02 pm&nbsp&nbsp&nbsp&nbsp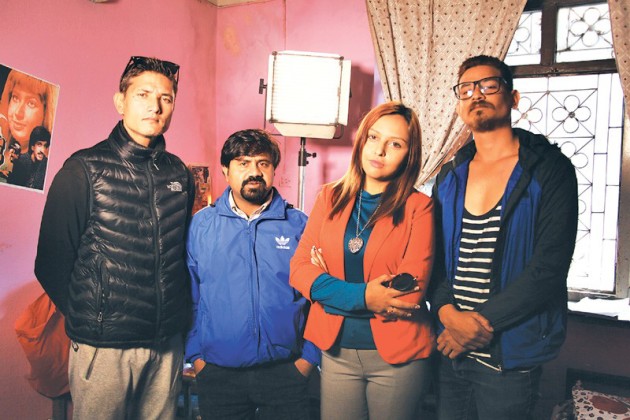 Kathmandu Nov. 26: Upcoming Nepali film Chakkar, which will bring the thriller and neo-noir genre to Nepali screens, has begun its production starting on Thursday.
The film which features Arpan Thapa, Richa Sharma, Shrijana Subba, Smiriti Pokhrel, Bhola Raj Sapkota and Aaone Raj Upreti in the lead will be directed by Anusk Rauniyar. Rauniyar's previous movie, Kathmandu Cocktail, is currently in post-production.
Speaking during an event, held in the Capital, director Rauniyar said that the movie will be ground-breaking as actors Shrijana and Smiriti will portray lesbian characters—characters that are seldom featured in mainstream Nepali movies. The only other notable Nepali movie exploring LGBTI themes being the 2012 Deeya Maskey and Nisha Adhikari-starrer Soongava: Dance of the Orchids.
Speaking about playing the role, debutant actress Subba, who came to Nepal from Sydney specifically for the movie, said, "Some of my friends back in Sydney are gay, so that has helped me get acquainted to the character." She further added that the workshops conducted by the production team also helped her understand the role better.
The movie is being produced by Dawa Lama and Kishor Thapa Magar and Uttam Neupane will be providing the background score. The shooting for the movie commenced in the Capital on Thursday, after the project was inaugurated by the chairperson of the Film Technician Board Puskar Lama. Producers are targeting a 2017 release for the movie. Source: The Kathmandu Post