Yoga guru Ramdev urges not to offer animal sacrifice
November 26, 2016 | 10:29 pm&nbsp&nbsp&nbsp&nbsp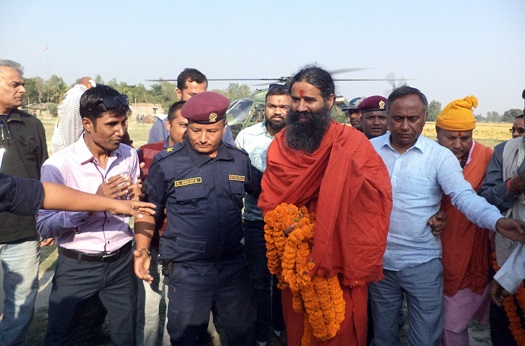 Rajbiraj / Nov 26: Indian Yoga guru Baba Ramdev has urged one and all not to sacrifice animal, stating that it would do no good to human body and society at large.
Ramdev said so addressing his followers after offering prayers at one of the famous shrines in Saptari district –Chinnamasta- on Saturday. He is currently in Birgunj to impart yoga classes in a yoga camp organized by Patanjali Yogapeeth Nepal.
Animal sacrifice had been long taking place in this Hindu shrine of Goddess occasionally, which is believed to appease the Goddess.
In response, a huge turnover of people had agreed to the request placed by the Indian yoga guru.
Ramdev was accompanied by his top aide Acharya Bala Krishna whose root lies in Nepal.
On the occasion, Ramdev pledged Indian currency Rs 100,000 for the Lashachandi Rudri Maha Yagya (a religious ritual) to be held in the premises of Chinnamasta temple in coming April.
Physical Attack on journalists
Meanwhile, some journalists covering the news on Ramdev's worship in the temple, faced ill-treatment from a top security personnel.
A bunch of six journalists have alleged Superintendent of Police Dibesh Lohani for beating them up while they were trying to enter the temple premises.
Federation of Nepalis Journalist (FNJ), Saptari, has condemned the physical attack on the journalists in the incident. FNJ Saptari Chapter Acting President Shrawan Kumar Dev has demanded action against the alleged. RSS