PM Dahal says govt. committed to implement constitution
November 27, 2016 | 10:29 pm&nbsp&nbsp&nbsp&nbsp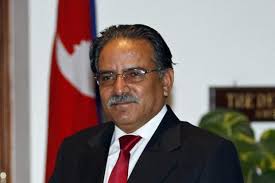 Parsa / Nov 27: Prime Minister Pushpa Kamal Dahal has said the government was committed to implementing the constitution by bringing together the hopes from Madhes, hilly and mountainous regions.
Prime Minister Dahal said that the government was on a final preparation of constitution amendment, and getting support from all Nepalis to build environment conducive for constitution implementation.
Inaugurating a special yoga camp organised by the Patanjali Yogpith Nepal at Adarshanagar Stadium, Birgunj, for women and children, he claimed that the government has also got support from all people in the nation building campaign.
On the occasion, the PM welcomed the announcement of Baba Ramdev to spend its income in social work by establishing Ayurveda industry in Nepal.
"Baba Ramdev's contribution is memorable for the prosperity of human, he is integrating yoga and industry," PM Dahal observed.
Ramdev also familiarized PM Dahal about yoga where PM Dahal also did some yoga calisthenics. More than 8,000 women and children are attending the yoga camp. RSS