PM says he is in epicentre of Nepali political 'quake'
November 28, 2016 | 10:07 pm&nbsp&nbsp&nbsp&nbsp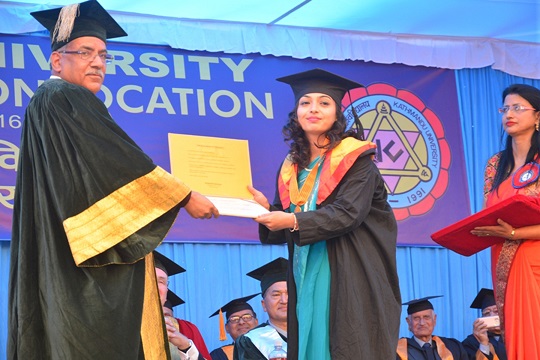 Banepa / Nov 28: Prime Minister and Chancellor of the Kathmandu University, Pushpa Kamal Dahal 'Prachanda' has said that he is 'at the epicentre of the Nepali political earthquake'.
Addressing the 22nd Convocation Ceremony of the Kathmandu University in Dhulikhel here on Monday, he underlined the need of political stability for a stable government to achieve prosperity for the country.
PM Dahal, on the occasion, pointed out the need of educated, civilised and capable persons in Nepali society even now, and urged the students to move ahead with ambitious plans for carrying out useful works for the betterment of the society.
"Please, offer the skills and expertise you have acquired for the service of the people in the remote areas who are living a difficult life," the Prime Minister pleaded the graduates, saying the government has expected a lot from them.
President of the Indian Centre for Policy Research and its chief executive, Prof (Dr) Pratap Bhanu Mehta said a challenge was being faced in the exercise of basic rights in the world these days.
Vice Chancellor of Kathmandu University, Dr Ram Kantha Makaju Shrestha suggested the students to use their special skills by making specific plans and bolster their self-confidence to face every challenge.
Altogether 1,285 students received degrees in the convocation ceremony today. Among them, 249 graduated under the School of Sciences, 282 under the School of Engineering, 464 under the School of Management, 103 under the School of Education and 187 under the School of Arts.
Twenty-five foreign students, including three from America, one from Bhutan, two from China, 11 from India, three from Bangladesh, three from Pakistan and two from Germany also received degrees today.
On the occasion, Lekhnath Dahal of the School of Engineering (CGPA 3.98, Master in Land Administration) was awarded with the Chancellor Gold Medal, Gopal Trital of the School of Arts (CGPA 3.993, Bachelor of Development Studies) with the Vice Chancellor Gold Medal, Niraj Ghimire of the School of Management (CGPA 3.85, MBA) with the Juddha Bahadur Shrestha Gold Medal and Rajani Maharjan of the School of Management (CGPA 3.80, MBA) with the Rana Bahadur Shah Gold Medal.
So far a total of 23,340 students have graduated from the Kathmandu University under various faculties. RSS