Vice President Pun: Constitution enforcement to open gate to economic prosperity
November 30, 2016 | 10:36 pm&nbsp&nbsp&nbsp&nbsp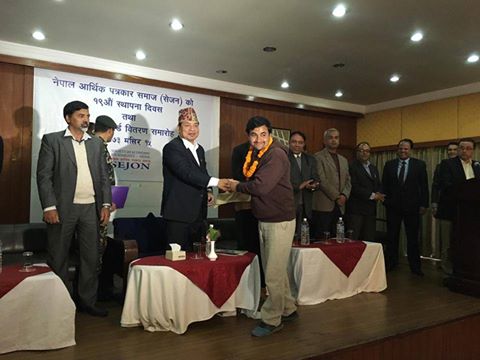 Kathmandu / Nov 30: Vice President Nanda Bahadur Pun has expressed the belief that the door to economic prosperity would be opened with the enforcement of the constitution.
Inaugurating the 19th Founding Day of the Society of Economic Journalists – Nepal (SEJON) here today, Vice President Pun said although the economic growth rate dipped to 0.77 percent last year, there was a ray of hope that the economy will recover this year as the power-cut has been removed, India's monopoly on fish supply has been broken and the bob-performing loans have reduced by half.
He said the country can achieve economic prosperity within a short time as there are adequate resources and basis for it within the country. The Vice President urged the government to create investment-friendly environment and give priority to infrastructure development for that.
He also called on the political parties to build an environment for the smooth enforcement of the constitution.
Energy Minister Janardan Sharma said the country could developed in a short time if there is determination and willpower, stating that the government has registered the constitution amendment proposal in parliament on the basis of consensus reached with the CPN (UML) and the Nepali Congress in the past.
Minister for Physical Infrastructure and Transport Ramesh Lekhak urged the media to give priority to the economic news rather than political ones.
Nepal Rastra Bank (NRB) Governor Chiranjivi Nepal said Nepal's trade deficit at present was Rs 201 billion, total export was at Rs 18 billion and the foreign exchange reserve was Rs 1054 billion.
Vice President Pun on the occasion presented the SEJON award and the SEJON scholarships to students. The programme was chaired by SEJON president Gokarna Awasthi. RSS