Development Committee's directives to Investment Board
November 30, 2016 | 10:34 pm&nbsp&nbsp&nbsp&nbsp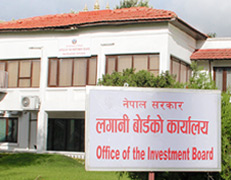 Kathmandu / Nov 30: The Development Committee under the Legislature-Parliament has issued instructions to the Investment Board to brief the Committee about the pressing investment policy challenges in the country.
Today's meeting of the Committee has asked the Board to provide all the necessary information about the challenges at the legal and policy level in connection to the promotion of investment for various projects within 15 days.
In the meeting, Committee's President Rabindra Adhikari also told the office-bearers in the Board to submit their progress report so as to give pace to the projects suffering stagnancy.
The directive also includes arrangement of adequate investment for the development projects before implementing and managing them.
On the occasion, Investment Board CEO Maha Prasad Adhikari had briefed about the progress reports on various ongoing projects, Board's action plan and the problems faced by this government agency that manages domestic as well as foreign investments. RSS