World Bank executive director meets NPC vice-chairman;  WB to provide additional support in reconstruction activities
March 14, 2017 | 10:18 am&nbsp&nbsp&nbsp&nbsp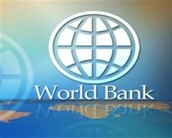 Kathmandu / March 13: The Executive Director of the World Bank Dr Andin Hadiyanto today has paid a courtesy call on National Planning Commission (NPC) Vice-chairman Dr Min Bahadur Shrestha at the NPC office Singh Durbar today.
According to NPC office sources, issues related to economic condition, future scenario and WB's support among others were discussed in the meeting.
NPC vice chair Shrestha said that the economic condition of the nation was improving and the economic development would pick up once the political climate in the country improves after local poll. He further shared that the 14th plan was in the phase of implementation and long term projects were prepared until 2030.
Dr Shrestha asked for the WB's support to invite foreign investment needed for large scale infrastructure development.
In response to Shrestha's request, Dr Hadiyanto had expressed his concern on Nepal's current economic status, role of NPC and security of private sectors' investment to invite foreign investment in the country.
WB to provide additional support in reconstruction activities
Meanehile, the World Bank has announced to provide additional support to Nepal for the post earthquake reconstruction activities.
Executive Director of the World Bank, Dr Andin Hadiyanto, expressed commitment of assistance for skill development and capacity building for better livelihood and economic prosperity after reconstruction task.
Hadiyanto after the meeting with Chief Executive Officer of the National Reconstruction Authority, Dr Govinda Raj Pokharel, said that support provided by the WB in reconstruction task would be utilized effectively.
Inquiring about the challenges seen in reconstruction task, he stressed the need of more cooperation and collaboration among government mechanisms to make the WB-run projects successful.
On the occasion, CEO Dr Pokharel said that role of development partner was very significant to face the challenges surfaced in reconstruction activities.
He informed that the NRA had been carrying out reconstruction works keeping the infrastructure related to private residence, educational and health sectors in priority. RSS