Communities need to be honest about what is needed as opposed to following our lead: Andrew
March 27, 2017 | 10:16 am&nbsp&nbsp&nbsp&nbsp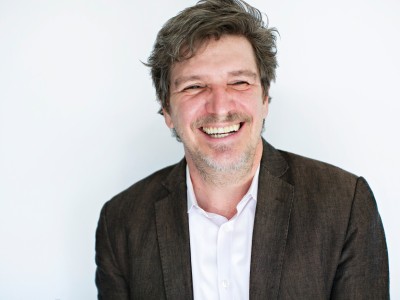 Kathmandu: The natural beauty of Nepal has not only attracted tourists but also drawn some of them to be part of the community. Andrew Raible is one such tourist, who visited Nepal in 2010 for his honeymoon and has been a close friend and supporter of Nepal since then. During his visit to Nepal, he realized the challenges faced by orphan children and decided to devote his time for the cause of supporting these children. Andrew and his colleagues formed Kids of Kathmandu for this purpose. With the belief that a quality education is one of the most fundamental ways to improve the future for the children of Nepal, Kids of Kathmandu has been supporting school construction, providing solar lamps to children and introducing digital library in these schools. The organization has recently completed construction of six schools destroyed during the earthquake of April 2015 thus providing a safe learning environment to 1,200 children. Andrew and his team have been working tirelessly towards providing a bright future for Nepali children which could be a good example for many people and organizations working in this sector. In this context, Nepalekhabar discussed ongoing projects and his motivation. Here are the excerpts:
What motivated you to come and work in Nepal?
In 2010, my wife and co-founder of Kids of Kathmandu, Jami, honeymooned in Kathmandu and volunteered at an orphanage in Hattigauda, Kathmandu. After returning to New York, we fundraised to sponsor the 49 orphans' tuition for a better school.
After returning a year later, the kids were in a newly built home and private school in Bhaktapur but all other essential support systems were being neglected. We realized to help a child's education we needed to go all in with nutrition, water purification, solar lighting, medical oversight and tutoring.
Can you shed light on the activities you have been doing in Nepal?
In the seven years since we first visited Nepal and started our non-profit, we've evolved from supporting a single orphanage to spearheading an international partnership rebuilding schools in response to the April 2015 earthquake. In between, Kids of Kathmandu has spent a great of time and effort vetting our Nepali and American partners who can contribute their core competencies to help us provide what is most needed by the children. We are as good as our partners who know a lot more than we do on their specific expertise. We are not afraid to ask for help and admit when we don't know the best solution to a given problem.

You are working to rebuild 15 schools which will benefit 2,627 children of Kavre district. What type of school you are constructing?
We have r
ecently completed our first six schools with our building partner Asia Friendship Network (AFN) in Kavre and Sindhupalchowk with two more still under construction. All of our rebuilt schools have a water purification system for the kids and community, new furniture and libraries and in the future we plan on providing computers and training through Open Learning Exchange Nepal.
We are beginning construction of a twelve classroom school in Sindhupalchowk for an excellent British non-profit, Acts of Kindness Collective (AOKC) in April. We are acting as project managers providing engineering and designs through construction for AOKC.
Right after the earthquake we started working with Arun Rimal, a Nepali-American structural engineer, on designing safe, effective and forward thinking school designs with SHoP Architects. We explored several different building materials and construction methods but ultimately decided on reinforced concrete columns (RCC) with kiln dried brick wall for the familiarity and ability to start construction quickly without a steep learning curve for the contractors. We continue to explore alternative materials and methods and will probably use another method in our second phase as well as the RCC.
In Nepal most of the I/NGOs are involved in software part rather than hardware; what motivated you to be involved in the construction project?
We believe that providing schools without the support systems is providing only half the solution. Our experience working with marginalized children has taught us that we need to confront some of the core, fundamental problems that negatively impact the children on a daily basis before we can attempt to deal with some of the larger issues confronting the children and their communities. Ultimately though, these kids need a safe and effective physical structure to go to school. As a designer myself, I strongly believe in the power of good design to have transformative powers to help the teachers and students fully realize their potential.
There are already many orphanages in Nepal – why did you decide to run another orphanage and how it is different from others? Sometimes we hear of mistreatment of children in orphanages, what is your view on this?
I now see that the even the word "orphan" is an elastic term all too readily used to describe any number of children with family and even resources at times. After confronting some initial issues that arose at the orphanage we sponsor, we soon decided that any new projects we supported would be addressing the needs of children with physical impairments.
We have tried to empower the kids in our orphanage to realize that there are many opportunities in an ever evolving Nepal. I think that some people associated with orphanages around Nepal continue to infantilize the children and not allow the kids to become accountable for themselves and eventually leave the orphanage as young adults prepared to become independent men and women.
What are you doing for the sustainability of your initiatives in Nepal?
Kids of Kathmandu continues to seek American and Nepali partners to grow our rebuilding initiative. We are also exploring some Impact Enterprises to help grow industry. The most obvious example of our business ideas is creating a school furniture manufacturing facility with engineering, supply chain management, quality control and fabrication training. We are an obvious customer and hope to sell our desks to other groups building schools. We've already fabricated several hundred desks with our unique design that allows us to deliver a hundred desks in one truck and assemble on site.
It is said that sometimes you have to face bureaucratic hurdles and obstacles while working in Nepal, what is your experience on it?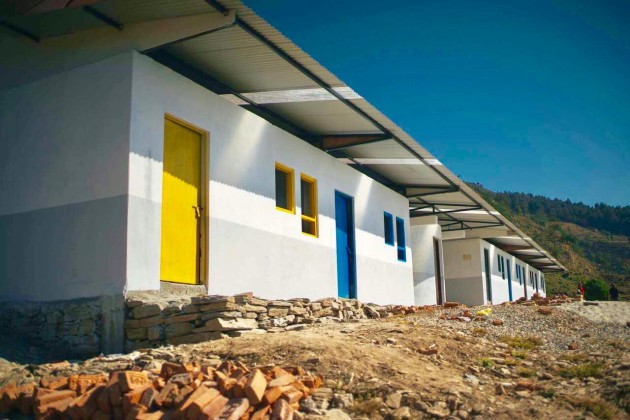 I am incredibly fortunate to be working with partners that have long-standing relationships with government agencies for a long time. There are often times that I am genuinely confused by the "process," but know better than to interfere.
What is your message to the people/organizations/institutions that want to come and support Nepal?
Don't be afraid to ask for help. Actually it's the only way to be effective. We only became truly effective once we hired Nepalis and found the right partners to guide and assist us on our projects.
I also think the most difficult but important lessons has been on how to manage expectations among all the stakeholders on our projects. I try to be as honest and upfront as possible on the front end of a project about what we expect from ourselves, our partners and the communities we are working with. I have to admit, my honesty gets me in a bit of trouble but I think that we all need to layout our needs as simply and honestly as possible in order to achieve an effective solution to whatever problem we are addressing.
Kids of Kathmandu's Nepali staff will make sure that our funds are used responsibly but don't always know the local issues as well as the locals. I'd like communities to be honest about what is needed as opposed to following our lead. We have found out that particular support systems, while effective, were not the most effective use of our dollars and that the community desired something else but was too afraid to express their needs out of fear that we would pull out of the project.
Do you have any message to the readers?
Ask the hard questions of foreign donors. We have a very different perspective of how tasks should be accomplished and we are often wrong when we try to apply what works for us in America in Nepal. The only way that we can be truly effective, and eventually leave Nepal to Nepalis, is to have honest dialogues with our partners and the communities we work with.
(Editor's Note: How do you find this interview, please send your comment at editor@nepalekhabar.com or editor.nepalekhabar@gmail.com. If you are also involved in some positive initiations, please feel free to contact us we want to promote your good initiatives.)