Expressing the city through art
April 1, 2017 | 1:37 pm&nbsp&nbsp&nbsp&nbsp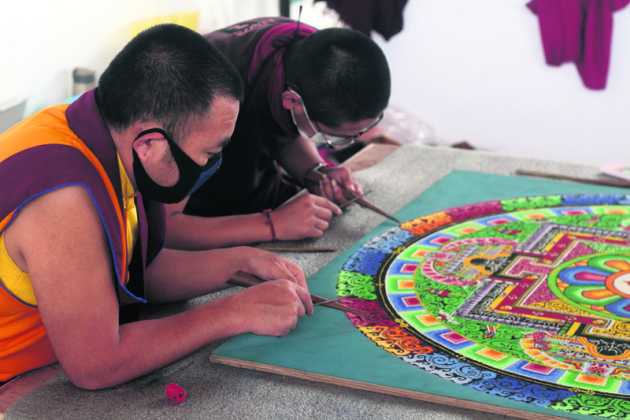 Kathmandu / Apr. 01: Kathmandu Triennale (KT) 2017, a rebranded iteration of Kathmandu International Art Festival that was held in 2009 and 2012, has kicked off in Kathmandu under the theme of 'My City, My Studio/My City, My life'.
Organized by Siddhartha Arts Foundation, around 70 artists from about 25 countries have presented their views on the city, encompassing various issues such as migration, identity, effects of earthquake, personal history, and architecture, among others, during the event that began on March 24.
Philippe Van Cauteren, artist director of S.M.A.K, Museum of Contemporary Art Ghent, Belgium, has curated the KT 2017 exhibitions, in which 17 Nepali artists and those from countries like Poland, Bangladesh, Pakistan, Argentina, China, and Netherlands, are taking part.
The premier platform for global contemporary arts in Nepal has showcased photographs, paintings, and various types of installations (monumental structure installations, video installations, and sound installations, among others).
The artworks are being exhibited in galleries and other spaces in the Kathmandu Valley, including in Patan Museum, Newa Chhen, Patan, Nepal Art Council, Siddhartha Art Gallery, Babermahal, Taragaon Museum, and Boudha, among others.
"The main aim of the KT 2017 is to provide a platform to artists and to promote Nepali art and culture globally. We are happy that we have been able to showcase artworks in such a huge scale. The central idea is the audience should get a meaningful experience in KT," said Nischal Oli, Director of KT 2017, during a guided tour of the event on Wednesday.
One of the major attractions is an art installation set up by Tayeba Begum Lipi from Bangladesh at the Patan Museum courtyard. A huge wooden house has been decorated with different colored blouses. Those blouses have been hung in hangers that cover the whole shelter. Inside the house, a video installation depicting the artist herself wearing a hijab made of metal blades has been showcased. Through this installation, Lipi has expressed the inner suffocation of women in Bangladesh.
At Siddhartha Art Gallery, Heide Hinrichs, a Brussels-based German artist, has connected herself to Nepal through a book. She has sketched drawings of birds using black ink on the walls of the gallery. At the center of the gallery, the original drawings of birds and their description compiled as a book has been displayed.
The drawings were commissioned by British naturalist Brian Hodgson between 1825 and 1857 and it has been brought from the Natural History Museum in London for the Triennale. Also, another installation using threads and books has been put up at one corner of the room.
Besides, the event, which will run through April 9, also features encounters, symposiums, and educational outreach programs. Source: http://www.myrepublica.com/news/17415/?categoryId=35