Local poll will not be postponed under any pretext: DPM Thapa; Nembang urges Madhes-based parties to participate in election
April 2, 2017 | 12:31 am&nbsp&nbsp&nbsp&nbsp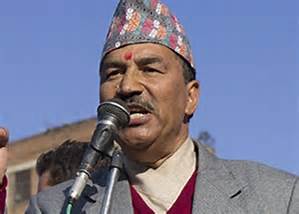 Pokhara / April 1: Deputy Prime Minister and Minister for Federal Affairs and Local Development Kamal Thapa has said that the local poll will not be postponed under any pretext.
He added that there was no reason to doubt over it as preparation for the same was going on with full steam.
Speaking at a programme in the district today, DPM Thapa shared that they were holding talks with Madhes centric parties in order to ensure their participation in the elections.
He however added that no agreements would be made affecting the election. He committed to holding the election in free, fair and fear-less manner. DPM Thapa further urged all sides to cooperate for elections.
Thapa made it clear that will be no difference to the government employees regarding their career development in the new federal set up.
Leader Nembang urges Madhes-based parties to partake in election
Meanwhile, Deputy leader of the CPN (UML) Parliamentary Party and standing committee member, Subas Chandra Nembang has urged the leaders of Madhes-based parties to change their ongoing agitation into election campaign.
At a news conference organised here on Saturday, leader Nembang suggested to find solution on minor disputed issues through discussion as Madhes-based parties have already come to consensus on federal democratic republicanism and secularism.
Saying it was compulsion to hold election of three tiers within coming January 14, 2018 for constitution implementation, former Chairman of Constituent Assembly (CA), Nembang said, "The role of Madhes-based parties is crucial to implement the constitution and to make the election successful. There is no alternative to participate in the election."
The CPN (UML) leader said that it was responsibility of all to protect and implement the constitution gained from decade-long struggle. He claimed that the CPN (UML) would be the top party in the coming local-level election. RSS