Committee to government: Send workers in Gulf countries only after labour pact
April 2, 2017 | 10:49 pm&nbsp&nbsp&nbsp&nbsp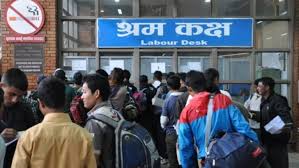 Kathmandu / April 02: The International Relations and Labor Committee under the Legislature-Parliament which had declared a role of immigration employees in illegally sending Nepali women to the Gulf countries a week back, has directed the Council of Ministers to completely ban the sending of Nepali workers to such countries until they came with a substantive law relating to domestic help and made a bilateral labour agreement with Nepal.
A meeting of the Committee held Sunday also instructed the Ministry of Foreign Affairs and the Ministry of Labour and Employment to make initiations at a higher level for an immediate rescue and return of those Nepali migrant workers facing difficulty in the Gulf countries.
The Foreign Ministry and the Ministry of Home Affairs have been told to identify those Nepalis involved in human smuggling by staying outside the country, get them back to the country and bring to book. The government has been instructed to start initiations at the diplomatic level to even punish those foreign nationals having connection to the smuggling of Nepali.
The meeting demanded action against those employees either of Tribhuvan International Airport (TIA) or the Department of Immigrations, who have the hands behind sending Nepali women to the Gulf countries illegally.
Moreover, the government has been instructed to regularly supervise problems of foreign employment and address them by forming a robust joint mechanism.
Foreign Minister Dr Prakash Sharan Mahat, Minister for Labour and Employment Suryaman Gurung, Minister of State for Home Indra Bahadur Baniya and the secretaries at the respective ministries were present in the meeting.
In the meeting, lawmakers claiming the hand of immigration employees in illegally sending Nepali women to the Gulf countries as domestic help insisted on action against the offenders.
A team headed by Committee President Prabhu Saha returned home on March 28, completing a field visit aimed at finding the status of Nepali migrant workers in four Golf countries Saudi Arabia, Kuwait, Qatar and the United Arab Emirates.
The committee came with the finding that of those women leaving country illegally for abroad jobs, 60 percent used the TIA with the support of the immigration employees. RSS