EC appoints returning officers for local polls; Foreign Minister Mahat bats for timely local polls
April 3, 2017 | 10:51 pm&nbsp&nbsp&nbsp&nbsp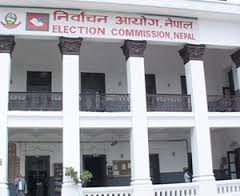 Kathmandu / April 3: Election Commission on Monday appointed chief returning officers and returning officers in all the 75 districts to conduct local level elections on May 14.
The commission's meeting on Monday took the decision of appointing a judge at respective district courts as the chief returning officer for the district as per the recommendation of the Judicial Council.
Likewise, the meeting decided of appointing 669 officials from judicial service and civil service as the returning officers for conducting the official. The commission issuing a press release informed that the officials from judicial service are appointed as per the recommendation of Judicial Service Commission.
Foreign Minister Mahat bats for timely local polls
Meanwhile, Minister for Foreign Affairs, Dr Prakash Sharan Mahat, has urged all not to doubt local elections being held on the slated date of May 14.
During an interaction organized by Nepal Students' Union on 'Aware youths for robust democracy', in Kathmandu, on Monday, Minister Mahat reiterated that the aggressive preparations for the elections would help wipe out the doubt. RSS