Indian Navy team to climb Mt Everest
April 3, 2017 | 10:49 pm&nbsp&nbsp&nbsp&nbsp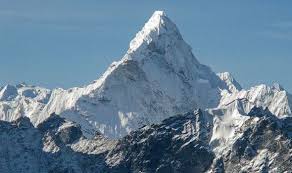 Kathmandu / April 3: An Indian Navy team is to set out for the expedition of Mt Everest, the highest peak in the world.
Speaking at a press conference held at the Embassy of India at Lainchaur on Tuesday, coordinator of the 24-member expedition team Sanjaya Kumar Kulkarni said, "We are climbing the Mt Everest with the slogan 'From the Sea to the Everest'."
He said the team will set out for Jiri from Kathmandu by a vehicle today itself and then trek to the Everest base camp.
The Indian Navy's Everest expedition is to be led by Mingma Sherpa, a Nepali mountaineer.
Before this, the Indian Navy teams have successfully climbed the world's highest peak in 1965 and 2004.
The Indian Embassy saw off the team amidst a function today. RSS