Political parties should rise above partisan interest: Prez Bhandari
April 5, 2017 | 10:31 pm&nbsp&nbsp&nbsp&nbsp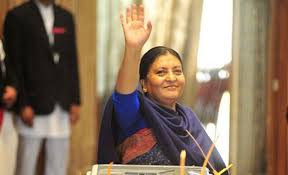 Ithari / Apr 5: President Bidya Devi Bhandari on Wednesday said that all political parties should rise above the partisan interest to build and develop Nepal.
After observing the areas eroded by Saptakoshi and Triyuga rivers of Udayapur and Sunsari district, President Bhandari pledged to take the initiative from her side to help check erosion by the rivers.
The Triyuga river alone has washed away more than 3,000 bigaha of land in Triyuga area of Udayapur.
On the occasion, Chief of Water Induced Disaster Prevention Regional Division Office, Janakpur, Ram Naresh Mandal briefed the President about the losses caused by Triyuga and Saptakoshi rivers.
Similarly, Nepali Congress central committee member Dr Narayan Khadka, lawmaker of Udayapur Constituency No 2, Manju Kumari Chaudhari, said that they would take initiatives to lessen the loss caused by Triyuga river.
Meanwhile, President Bhandari met her mother, Mithila Pandey, on Wednesday itself. Mithila has been living in an Aashram at Barahachettra of Sunsari. RSS