EC decides to allow ministers to attend election campaign
April 5, 2017 | 10:32 pm&nbsp&nbsp&nbsp&nbsp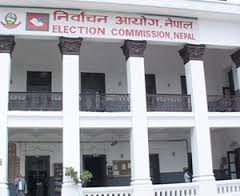 Kathmandu / Apr 5: The Election Commission (EC) has decided to allow the government ministers to engage in election campaign of their respective parties. However, the ministers would not be allowed to use government vehicles during the campaigns.
A meeting of the EC held on Wednesday made the decision to this effect.
Earlier, the EC had confined the ministers to the district headquarters and barred them from engaging in the campaign for local level elections slated for May 14.
They can now use private vehicles to go beyond the district headquarters. The decision was taken in order to facilitate the political atmosphere for elections, according to EC Spokesperson Surya Prasad Sharma.
The EC today, however, decided that the ministers would not be allowed to attend any political programme after the candidates receive their election symbol for the purpose of elections.
As per the election schedule, candidates are required to file their candidacy on April 29. The election symbols will be granted on May 2. RSS