EC starts sending voter education materials to districts
April 8, 2017 | 10:30 pm&nbsp&nbsp&nbsp&nbsp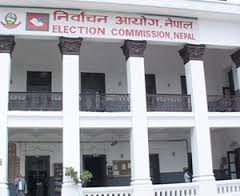 Kathmandu / Apr. 8: The Election Commission, Nepal, has started sending the materials meant for voter education to the districts from Saturday.
The materials have been prepared for the purpose of the local level election scheduled for May 14.
The EC has prepared five different types of posters, answers to the frequently asked questions related to election, booklets and resource books for voter education this time, Commission's joint-secretary Nawaraj Dhakal said.
The poster related to voter education contains topics like who should abide by the election code of conduct and why, the different posts to be elected in the Village Assembly and the Town Assembly, the way of putting the mark on the election symbol of one's choice, the way of folding the ballot paper and casting it in the ballot box.
Likewise, the poster also illustrates the condition when the vote is invalid, the time for voting, the way of staying in a queue at the polling station.
The Commission stated that it has printed around 5.5 million units of the voter education materials.
Vehicles carrying these materials to Banke, Bardiya, Dolpa, Mugu, Humla, Jajarkot, Dadeldhura, Achham, Bajura, Bajhang among other districts have already set out from the Election Commission.
The voter education materials for 54 other districts have already been packaged, it is stated.
Twenty one thousand volunteers will visit the doorsteps of the voters from April 14 for the voter education. In this connection, a single volunteer will need to provide voter education to a population of at least 700 to 1,000.
The Election Commission has stated that the voter identity card distribution will start from the polling centres concerned from May 11 to 13. RSS