NRA endorses guideline on relocation of quake-hit
April 8, 2017 | 10:28 pm&nbsp&nbsp&nbsp&nbsp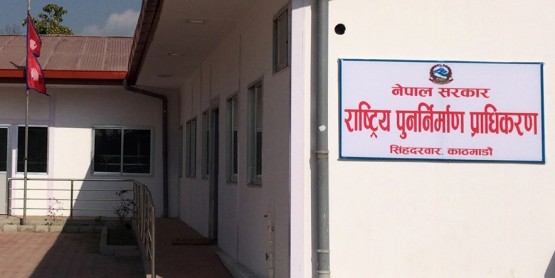 Kathmandu / Apr. 8: The executive committee of the National reconstruction Authority (NRA) has endorsed a guideline on relocating survivors of 2015 earthquakes to safer spots.
The meeting held at the NRA office on Friday approved the guideline for relocating the quake victims away from places that have been proven to be too risky for continued habitation.
"The beneficiaries, however, are free to decide whether they want to migrate to safer sites or continue to live in their native places," Dhurwa Prasad Sharma, member of the committee, said. "They can shift to bordering districts."
The NRA has already submitted a proposal to the cabinet to provide a lump sum of Rs 200,000 per household to buy land plots in safer places. They can also avail the reconstruction grant of Rs 300,000 from the government.
"The government assistance should only be used to buy land plots, and that the beneficiaries should furnish an evidence of the purchase to the authorities concerned," Sharma said. "A beneficiary can have the land plot registered in his/her spouse's name, and should mandatorily live there for at least 10 years."
At least 10 households in vulnerable areas can form a committee which will identify safer sites for relocation, according to the guideline that came into effect on Friday. They should build integrated settlements in safer areas.
The guideline has also provisioned that the victims should shift to safer areas within the same local body. "Small settlements (up to 10 households) will be shifted to safer places within the same or bordering local body," read an NRA statement.
After the earthquakes, the Ministry of Home Affairs had said as many as 475 settlements in 18 districts might be at risk of landslides during monsoons. The Department of Mines and Geology had also carried out a survey in 11 district worst-hit by the quakes, and identified up to 117 settlements they were vulnerable.