Goals sets for periodic development plan remain unmet: PM Dahal; No decision on Ncell tax issue: PM
April 9, 2017 | 10:28 pm&nbsp&nbsp&nbsp&nbsp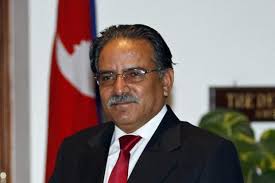 Kathmandu / Apr. 9: Prime Minister Pushpa Kamal Dahal has said that although people's living standard has improved, level of poverty has reduced and social indicators have shown relative progress, many goals and targets set out for each periodic development plan have remained unmet.
Inaugurating the 'Strategic County Direction Workshop' organised by the National Planning Commission here today, Prime Minister Dahal said that it is high time to work seriously on creating strong foundation of socio-economic development for the welfare and prosperity of the country and the people.
Saying a target has been set to enlist the country in the list of a middle income country by 2030, he however, said that attaining the status of a middle income country requires a sustained high level of economic growth, horizontal spread of the benefit of economic development and creation of broad-based backward and forward linkages to ensure that everyone becomes a beneficiary of economic development process.
Prime Minister Dahal also expressed hope that the seminar would help the participants to understand and realize the underlying reasons for the under performance of our development plans.
Present on the occasion were ministers, former finance ministers, office-bearers of National Planning Commission, the Chief Secretary, office-bearers of Performance Management and Delivery Unit (PEMANDU) of Malaysia.
No decision on Ncell tax issue: PM
Meanwhile, in another development, Prime Minister Pushpa Kamal Dahal said that the government is committed to recover the capital gain tax (CGT) by the transaction during the sale and purchase of GSM operator Ncell.
Speaking at the meeting of the Public Account Committee (PAC) under the Legislature-Parliament on Sunday, PM Dahal asserted that the government is determined to recuperate the CGT.
"There is no such hurdles for the government to recover the CGT ", said PM Dahal.
The PAC had summoned the Prime Minister Dahal to inquire about the CGT and the 'decision" made by the government regarding this issue on Sunday.
PM Dahal reassured that the government will not make compromise regarding the issue. The government will make a decision to recover the CGT at earliest.
He refuted the rumors regarding the decision made by the government regarding the issue. He said that the government has not made any decision citing that it was just informal discussion.
The PAC had, on January 16, directed the government to recover CGT from Ncell within three months. Though more than two months have already elapsed, nothing has been done to recover CGT. RSS