Bhaktapur's renowned Bisket Jatra commencing today
April 11, 2017 | 12:09 am&nbsp&nbsp&nbsp&nbsp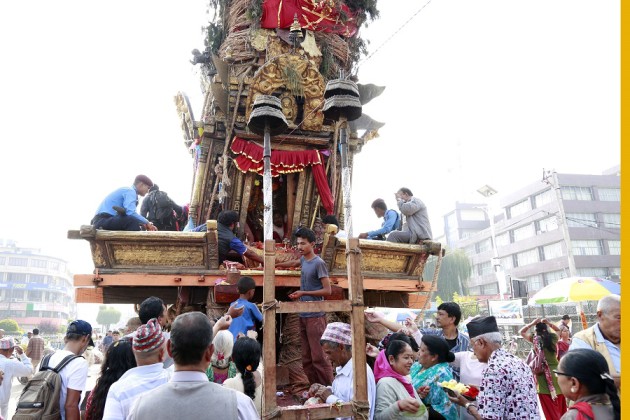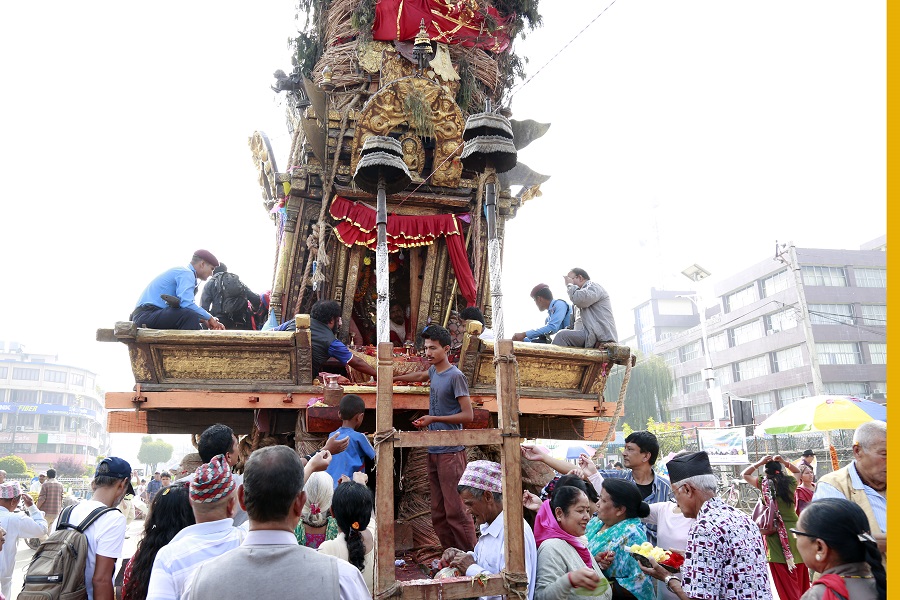 Bhaktapur / Apr. 10: The renowned Bisket Jatra bearing historical and cultural significances is set to commence in Bhaktapur today.
The Bisket Jatra will run for eight nights and nine days amidst much fanfare. The Jatra will start after the devotees pull at the Bhairavnath God's chariot in front of the five-storey Nyatapola temple at Taumadi square. The statues of Hindu Gods Bhairavnath and Betaal will be set up inside the three – storey chariot built in the pagoda style, which the residents of Thane (Upper) and Kwane (Lower) quarters will tug from both sides.
Five ropes will be tied in the front part of the chariot while four ropes will be set up at the rear side. The devotees will tug at the ropes from both ends to take it to their part of neighbourhood. The side able to pull the chariot to their quarter of the town will be viewed as the victors.
Meanwhile, preparations are being made to start the chariot pulling during the daytime this year to avoid possible clashes among the devotees and for celebrating the festival in a managed way.
Metropolitan Police Range Office, Bhaktapur Superintendent of Police (SP), Kiran Rana, said security has been beefed up in view of possible clashes. Every year people die by falling under the wheels of the chariot and in course of clashes among the devotees, who throw stones and bricks at each other.
Commencing the chariot pulling during night time increases the chances of devotees falling and getting crushed under the chariot's big wooden wheels. The nighttime Jatra also inflicts damages to the locals' houses lining the path where the chariot is pulled. To avoid these accidents, preparations are being made to start the festival during the day, Guthi Sansthan Office, Bhaktapur Chief Hari Prasad Subedi said. RSS